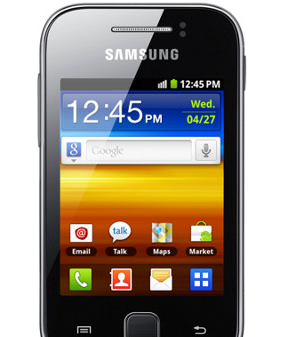 We've all seen the big-screen Samsung Galaxy Note 2 or SIII phones being clutched in one uncomfortably stretched palm, but India's Android market reveals that the smaller and cheaper Samsung Galaxy devices are actually more popular. Indeed, in new statistics released by game developer Animoca, they observed that every single one of India's top 10 Android phones carry the Samsung Galaxy brand – and that the top one is a budget phone with a mere three-inch screen.
An Animoca representative explains to us that this this is from a sample base of 500,000 Indian gamers on the developer's many titles, such as Pretty Pet Salon. It's great news for Samsung (KRX:005930), whose budget Galaxy Y phone (pictured) is far and away the most popular Android phone in India.
Of course, this doesn't equate with sales in India, but statistics from these kinds of mobile platforms often give a good picture of what folks are using. I asked Animoca's Matt McAllister if these stats (see the full top 10 below) might be skewed towards younger gamers, and he responded:
Yes, the demographic is mobile gamers, but that doesn't necessarily mean it's a younger demographic. Animoca publishes over 300 games that attract many different audiences, so I'd say it's fairly representative of the overall populations at large.
There are plenty of other budget Android phones in India, such as the fairly powerful Micromax A85, so Samsung might soon find its dominance weakened by telcos shipping cheap phones from such Chinese OEMs.
The game startup says that the most popular Android OS version in India is Android 2.3.6 (gingerbread) with 39.1 percent market share, which proves that cheaper phones – which often come with outdated software – rule the roost. But, more promisingly, Android 4.0.4 (ice-cream sandwich) is next up, with 17.9 percent share.
Here's the phone list:
| Ranking | Android phone | Market share (%) |
| --- | --- | --- |
| 1st | Samsung Galaxy Y | 18.1 |
| 2nd | Samsung Galaxy Y Duos | 8 |
| 3rd | Samsung Galaxy Fit | 6 |
| 4th | Samsung Galaxy Ace | 4.7 |
| 5th | Samsung Galaxy Note | 4.1 |
| 6th | Samsung Galaxy Mini | 3.4 |
| 7th | Samsung Galaxy S3 | 3.3 |
| 8th | Samsung Galaxy Ace Duos | 3.2 |
| 9th | Samsung Galaxy Note 2 | 3 |
| 10th | Samsung Galaxy S2 | 2.7 |
Stay tuned for stats later today from Animoca for their native Hong Kong as well.