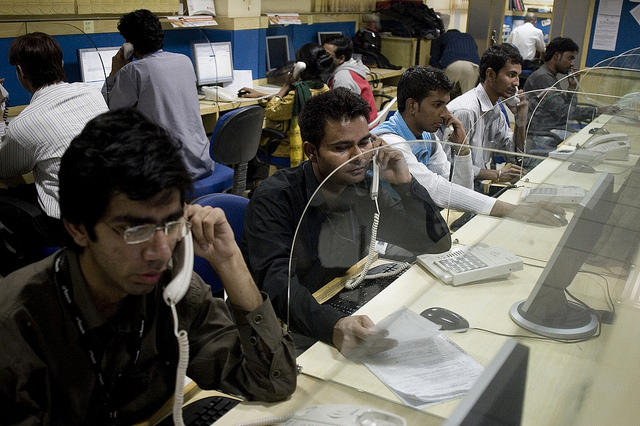 Throughout Asia as well as globally, India and the Philippines have both been popular destinations for business process outsourcing (BPO) by global companies. And a recent report by consulting firm Tholons shows that this remains to be so.
In its ranking of the top 100 outsourcing destinations, Tholons' report shows that the world's top eight outsourcing cities are located in India and the Philippines. Bangalore remains unmoved at the top, while Manila follows at the number two spot, overtaking Mumbai when compared to earlier studies. Of the top eight locations, six are in India while two – Manila and Cebu – are located in the Philippines.

One of India's advantages in the BPO sector is its market size, which towers over that of the Philippines. India had 2.8 million citizens employed in the BPO industry as of 2012, while the Philippines had just around 750,000 in the same year.
Looking forward, India's information technology industry body NASSCOM anticipates that the sector will generate $50 billion in revenue by 2020. Meanwhile, the Philippines is aiming for $27.4 billion in revenue by 2016.
More BPO cities in the Philippines
As we recently noted recently that a number of companies choose the Philippines as an outsourcing destination due to a factors such as infrastructure and government support.
Adapting to the growth of the sector in the Philippines, the country has already identified 10 cities that it aims to develop as hubs for outsourcing. Some of these cities appear on the Tholons ranking. Davao is at 69th on the list, up one spot from last year; Metro Laguna up two spots from 84th to 82nd, and Bacolod from 94th to 93. Ilo-ilo is at 95, two spots lower than last year.
India currently has 15 cities on the list overall.
China a potential new player
Apart from India and the Philippines, the Philippines' Information Technology and Business Process Association of the Philippines (IBPAP) last year saw that China is also emerging as an outsourcing destination. Indeed, Shanghai, Beijing, Dalian and Shenzhen are ranked 11th, 12th, 14th and 15th respectively this year. Shanghai and Beijing's rankings remained the same as those of last year, while Dalian and Shenzhen switched spots.
This indicate that China's position in the BPO sector remains intact and might grow in the coming years. India might also see China's rise in BPO as a threat to the growth to its own BPO sector, as its share of the global BPO market decreased 10 percent last year.
(Source: Newsbytes | Photo Flickr user ILO in Asia and the Pacific)
(Editing by Josh Horwitz)