Indian cloud telephony startup Knowlarity has strengthened its business with the acquisition of rival company Unicom Techlabs. The deal happened through internal funding; no transaction details have been revealed.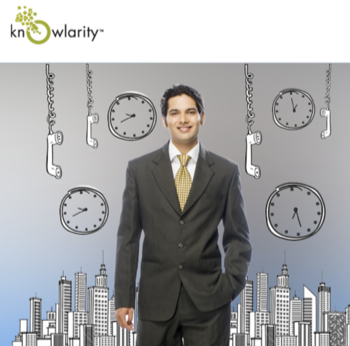 Knowlarity caters to small and medium-sized businesses with its online communications services such as SuperReceptionist. The Gurgaon-based firm is bullish on further buyouts this year. Knowlarity CFO Shruti Agarwal said today:
We at Knowlarity are overwhelmed to have successfully acquired Unicom. It is also a great learning experience for all the consequent deals in the pipeline for 2014 which will take us further towards our goal of market consolidation […] We have more acquisitions planned in the coming year.
Opened in May 2012, Unicom Techlabs came out with its own cloud telephony service called Cloud Line, and in less than a year of existence the startup grew to a roster of over 200 enterprise customers in verticals like e-commerce, real estate, healthcare, education, and media.
The Delhi-based startup was eying sales revenues worth INR 1 crore ($164,000) for 2014, but founders Puneet Kaura and Abhinav Jha decided to exit their venture citing growing competition in the market. All those Cloud Line customers will be transferred over to Knowlarity.
Overseas expansion
Started in 2009 by two graduates from the Indian Institute of Technology (IIT) Kanpur, Ambarish Gupta and Pallav Pandey, using personal savings and borrowed cash worth $2 million, Knowlarity as a tech venture has come a long way from its roots. Its growing cloud telephony business offerings and operations have expanded into more than 65 countries.
Knowlarity is backed by Sequoia Capital, which invested $6.5 million in early 2012.
Knowlarity has 6,000 paying subscribers for its cloud telephony solutions, while 100,000 are free users. Given its expanding business, Knowlarity is aiming at revenue of over INR 75 crore ($12.3 million) by 2015 – boosted, no doubt, by its planned acquisitions.
2014 will be marked by a strong push into emerging markets, starting with Southeast Asia, the Middle East, and Latin America, says Ambarish Gupta, Knowlarity's CEO and founder.
This Knowlarity-Unicom deal opens a new chapter in the emerging Indian startup ecosystem and could inspire other successful ventures to eye rival startups in the same domain to strengthen their market position in India.
(Editing by Steven Millward)