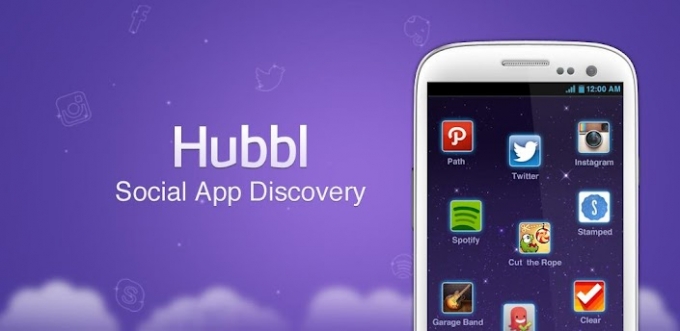 Finding apps that you like and find useful can be a little bit tricky given all the choices that are out there. We recently looked at India-based Appszito which proposes an alternative way to search. But what about recommendations from friends? Well, there are apps for that too. And one of them is Hubbl.
With its headquarters in India, this startup was founded by Archana Patchirajan and Kushal M. Choksi. They have a team of 12 people in total, and you may recognize the former as a co-founder of MyCityWay.
Their app integrates with your social circle and makes use of tags to catalogue applications into handy groups. You can also follow certain users if you like their app suggestions. A team representative tells me that the founders saw a definite need for such a service, as they wanted a platform where they, as mobile enthusiasts, could discuss and discover new apps.
[A]s passionate smartphone users, we did not find a tool to talk about apps. Hubbl was born to act as a word of mouth platform for apps that transforms an app's users into loyal advocates of the app by giving them tools to talk about it.
Hubbl was founded only recently, in July of this year. In addition to being a useful service from a consumer point of view, their team originally saw it as a useful took for developers as well.
[H]aving developed apps for the iPhone and Android platforms for three years now, we have always had issues with positioning our apps among a million other apps. It is hard for developers to get traction without spending big marketing dollars.
Interestingly, this need ties in with its revenue which will take the form of sponsored app recommendations, paid developer tools, and affiliate revenue.
They participated in Techcrunch Disrupt under the name of Hmmm, before transitioning to Hubbl. The app did quite well after its initial launch, with about 15,000 on board after just one week of being public, I'm told. The company boasts that the average session time on Hubbl is about nine minutes.
The team is also planning to launch an app discovery game this weekend, which should be interesting to see. The next version of Hubbl will include more gaming and social aspects as well, I'm told.
I think such a service is a pretty solid idea, because there is a subset of people whose recommendations I tend to accept without much hesitation, as I've come to trust their taste. And if they were on Hubbl, I'd be sure to follow them close.
Currently Hubbl is bootstrapped, but they are looking for seed funding at the moment. If you'd like to give the app a try, it's available for iOS and Android.