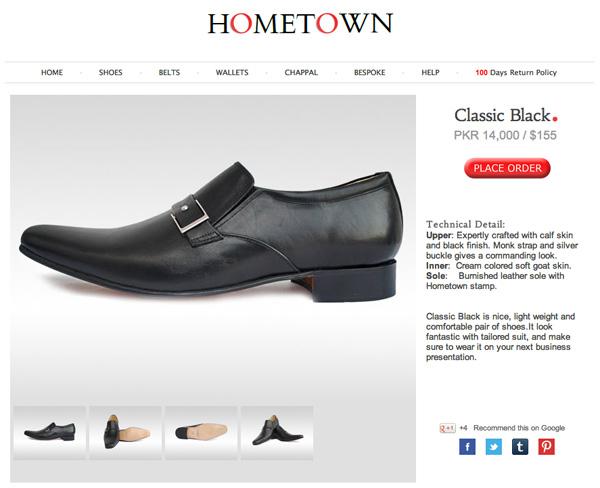 Based in Pakistan, Hometown claims to be the first e-commerce site selling handmade leather products in the country. The startup was founded just slightly more than a month ago by Waqas Ali (who wrote a few articles for us last year), Sidra Qasim, and M Hussain. The startup has quite a story behind it.
The simple idea was inspired back in 2010 when Ali met Hussain who was running his small handmade shoes business back in his hometown. Like any traditional business, Hussain was making shoes for other businesses so Ali thought about the opportunity of selling these handmade shoes directly to online customers.
The idea was there but no action was taken until July 2011. The founders won $10,000 seed funding through a Social Innovation Fund from the Pakistan Software House Association, a program sponsored by Google. Ali explains, "Craftsmanship and technology, we are combining them to build a niche business."
Pakistan looks like a promising market with a total population of more than 176 million, and 29 million internet users according to World Bank data (see chart below). The numbers, though somewhat outdated, are enough to show Pakistan's potential as a promising internet market in the future. The mobile web looks to be more of a struggle, though, with only four million mobile internet users out of a total of 108 million mobile phone subscribers.
The Hometown team now has 11 people working on Hometownshoes.com who include designers, shoe masters, craftsmen, and business developers. Its warehouse is based in Okara and with an office in Lahore. Ali didn't reveal sales or user numbers but did mention that the startup is "making sales on a daily basis."
Besides the $10,000 seed funding, Hometown is bootstrapping and not raising funds at the moment. In the near future, the team will add more another product vertical, but assure us that these products will also be handmade to keep themselves differentiated from the competition.
"Unlike many others who are trying selling every possible thing, we are starting with what we are best at – for now. Starting small allows us to focus on making great products, give personal attention to each customer, and eventually building a loyal customer following," Ali added.