Whoever works at the design department at Hedy (SHE:002027), a Chinese phone manufacturer, must have very worn-down Ctrl, C, and V keys on their keyboards because all their smartphone models are carbon-copy clones of devices by HTC (TPE:2498) and Samsung (005930:KS).
Hedy is the English branding, while the Chinese name is 'Qi Xi' which is actually the official local brand for the soda drink 7-Up, so not even that is original.
---
Ripping Off HTC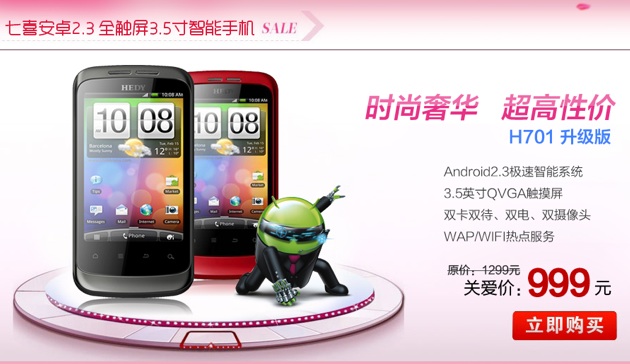 The Hedy H701 (pictured above) is a very blatant rip of the HTC Desire S. On Hedy's own Tmall online store (see it here), which links to individual Taobao product pages, it's selling for 999 RMB (US$158). But I've seen prices vary wildly from 669 to 1999 RMB on other sites, so it feels like they're just picking random numbers.
As is always the case with such 'shanzhai' phones, the software shown in the screenshots might bear no resemblance to what's actually in the phone. But the heavy Android branding on the H701, and the general ease of sticking an Android ROM into a device, means that it could well actually be running a HTC Sense-flavoured version of Google's mobile OS. The text claims that it's running Android 2.3, but, very suspiciously, many screenshots on the store's item page show a much older version with that white toolbar at the top. Live photos of the device only show it switched off, which is probably not a good sign.
The H701's specs are nowhere close to the actual Desire S, sporting only a low-res 320 by 480 pixels screen, no 3G support, and a wheezy 640MHz processor.
Note that it's probably stuff like this that keeps Alibaba's Taobao on the US government's piracy blacklist, despite the company's repeated claims of it being an unjust assessment.
---
Ripping Off Samsung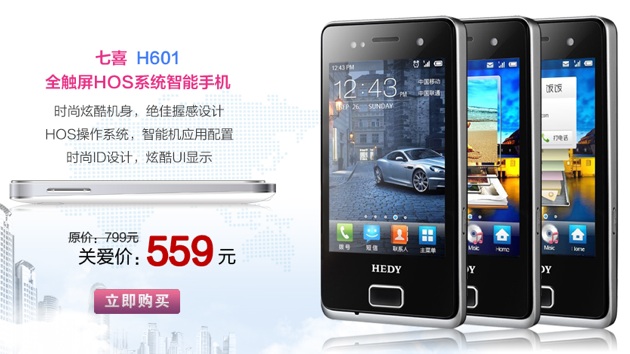 We've seen that the real Samsung Galaxy phones are proving to be China's top choice of Android handset, so it's not too much of a surprise that Hedy's other smartphone clone is of Samsung's popular product. Dubbed the Hedy H601 (pictured above), it's priced at 559 RMB and cunningly incorporates a few style elements of the iPhone 4, thereby sort of metamorphosing the Galaxy with Apple's much-loved phone. Clever. Specs are something of a mystery, but it comes in either white and black.
Some photoshopped images of the device show the logo at the top, while on others it's between the one hard-button and the screen – again a clear indication that veracity is tossed to the wind when you're a shanzhai cloner. Live photos show the logo is up top, and also reveal a very grainy screen. You pay your money and you take your chance.
---
Ripping Off Nokia, Lots of Japanese Feature-Phones, etc etc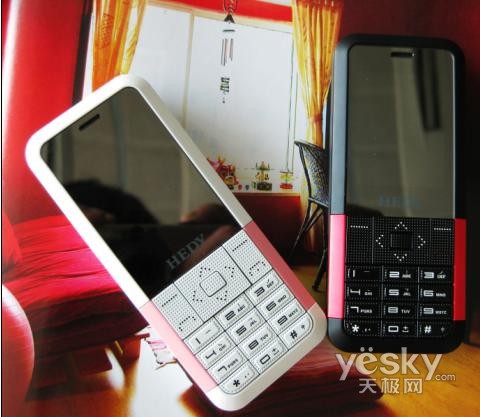 Hedy also makes a huge array of feature-phones. I'm not so familiar with these devices, but I spot one Nokia (HEL:NOK1V; NYSE:NOK) clone amongst its lineup, and my colleague in Japan sees another that's strikingly similar to Emobile's Smart Bar phone. There are probably more. The Nokia fake is the Hedy V001 (pictured above) which actually launched way back in 2009.
Although we've previously reported that the shanzhai phone industry might be dying out in China, there are still some audacious cloners who'll fake, package, and sell whatever resembles the most popular phones out there. Cloning smartphones is tougher than doing so with feature-phones, but Hedy shows that it's worth a shot, with apparently no copyright protection in sight. Unless you're a Chinese company up against a western one.