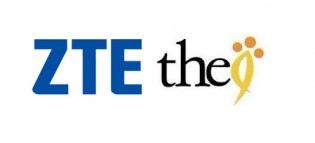 The9 is one of China's biggest gaming companies. ZTE is one of its biggest handset and telecom equipment makers. So what do you get when you put those two things together? No, seriously, take a second and think of a guess! Got one? OK, here's what they're working on: an internet television company. Wait, what?
It's certainly not what I was expecting, but it's true: ZTE and The9 have announced the establishment of a new joint subsidiary company (to be not-so-creatively called ZTE The9) based in Wuxi that will work on value-added services for the internet television industry. The ultimate goal is to create products that will support the web, mobile phones, and televisions, to get into 90 percent of Chinese households with internet TVs, and to create a high-quality internet TV entertainment platform. The new company's CEO Zhao Jingyi said that the goal is to do all of that within two or three years, which certainly sounds ambitious.
The9 does have content partnerships with a number of mobile and TV companies to bring gaming videos to their platforms, so the partnership isn't quite as weird as it sounds at first, although I have no idea what ZTE is bringing to the table. But it may just be that the companies see an opening for smart TVs in China. If that's the case, they certainly wouldn't be alone; there has been a lot of talk about the future development of China's internet and smart TV sector recently (fueled in part by all the Xiaomi TV news).
Personally, I do think there could be an opening for smart TVs and an internet TV platform to explode in China. Although the concept hasn't really caught on in the West, where people who want to access the internet services via TVs often do so via gaming consoles or HTPC setups, both of those things are far less common in China, and set-top boxes seem like a very short-term solution that is destined to ultimately be replaced by services and platforms that come pre-installed on the televisions themselves. My guess is that ZTE The9's two to three year timeframe is a bit overly ambitious, but I could certainly be wrong. The tech industry in China is developing very quickly, and in another couple of years, things might really look totally different. My guess is that ZTE The9 will also be up against a lot of competition, though. It's clear that Xiaomi is interested in the internet TV sector, and I expect a lot of other internet and tech companies to head in similar directions over the next year or two, especially if Xiaomi is able to resolve its regulatory issues.
[via Sina Tech]