Dressed casually in sneakers, dark blue jeans, and a simple black outfit, he looked very much like your typical tech geek. Perhaps it was the warm Singapore weather that inspired the casual dress. The young founder of GREE (TYO:3632), Yoshikazu Tanaka, shook my hand, handed me his business card and bowed like any other Japanese professional. I managed a clumsy bow in response, in admiration of his sincere and polite attitude. We had met once before in Beijing last year, but our conversation hadn't lasted long.
Many know that Facebook's Mark Zuckerberg is one of the world's youngest self-made billionaires. But Yoshikazu Tanaka amassed a whopping $1.6 billion fortune by the young age of 32. He is now 34.
His entrepreneurial story dates back to 1999 when he was a fresh graduate. Prior to GREE Inc. Tanaka didn't have any experience building a startup. But he was always a keen admirer of great Internet businesses. He told me that the the Japanese version of Wired magazine was his source of inspiration.
"Back then, I witnessed Amazon, eBay, and Yahoo's phenomenal growth in the Internet world. That got me very inspired and motivated to do one myself," said Tanaka. But like most aspiring entrepreneurs, he didn't jump straight in. "I wanted to work and gain some experience first," he noted.
---
Hungry to learn and succeed
---
Tanaka graduated in March 1999 from Nihon University. Within a month he was recruited by So-net Entertainment Corporation, which is a Sony Internet service provider affiliate. That job didn't last very long, though.
"I enjoyed my time at So-net, but I thought I needed a change to a more startup-like environment and culture. So-net is too large of a corporation to learn how to run a business," Tanaka remarked. After ten months at So-net, on February 2000, Tanaka joined Rakuten as employee number 50.
When Tanaka joined, Rakuten — now one of the world's biggest and most successful e-commerce sites — was just a three-year old venture. As he explains, it provided him with "very good exposure in managing a startup." At Rakuten, Tanaka had a chance to challenge his abilities:
"Besides my technical role, on Rakuten's range of products, I also managed online product reviews, the blog network, and affiliate marketing… the marketing stuff," he explained.
Tanaka spent a good four years at Rakuten and was part of the team that witnessed the Japanese e-commerce giant listed on JASDAQ in April 2000, the rollout of Rakuten Travel in 2001, the acquisition of Infoseek Japan K.K and DLJSecurities in 2003.
All this would prove useful when Tanaka started his own empire.
---
Billion-dollar hobby
---
While Tanaka was focused on his job at Rakuten, he was also a keen observer of what was taking place outside of Japan. In 2003, he was inspired by Friendster, the popular social network with a large number of users from both the US and Asia. Tanaka was fascinated by the online social networking concept as the possibilities and growth seemed limitless. That sparked his entrepreneurial instinct, and he began to wonder if there was any way to bring the social networking concept to the Japanese market.
Around the end of 2003, I started doing the programming myself, developing the first version of GREE. It was just a hobby to me… And I only launched GREE as a social networking site on February 2004.
Success came pretty quick after GREE was first introduced to the public. The first version of GREE, as Tanaka explained, was a PC-focused social networking site.
After just one month, GREE had attracted 10,000 users. And by October 2004, it had more than 100,000. Tanaka says he didn't spend a single dime on marketing, and that his startup became popular purely through word of mouth from its users.
The traffic brought Tanaka an unexpected problem though. Tanaka discovered that he needed to hire someone to manage his server to keep GREE up and running. His new network could no longer remain just a hobby. After tasting early success, Tanaka was determined to take the next step, and that necessitated that he quit Rakuten and channel all his energy towards building GREE. In December of 2004 he left Rakuten and began his journey as a full-time entrepreneur.
---
GREE Inc. is born
---

GREE was registered as a formalized business in December 2004, as soon as Tanaka left Rakuten. GREE Inc. was officially born.
To expand quickly, Tanaka needed fresh funds to hire talent. In June of 2005, Globis Capital Partners invested 100 million yen (about US$1.3 million at today's rates) in his venture. The funding allowed him to hire and expand his office space. Tanaka reflected on his fund raising experience:
In 2005 and 2006, investors were looking out more for online search businesses in Japan. They were influenced by Google and Yahoo's success. So some of them weren't exactly comfortable investing in a social networking service.
Nonetheless, growth remained strong and GREE started to gain attention from Japanese telecom operators. In June 2006, GREE received investment from KDDI, amounting to 360 million yen (or about US$4.6 million).
As a result, EZ GREE was launched in November 2006 as the official mobile service for KDDI; it's now known as 'au one GREE.' Three months later GREE became NTT Docomo's official mobile networking service. And by March of 2007, GREE had hit the one-million-users milestone.
---
Mobile, the future of Internet
---
With such robust growth, Tanaka still wasn't satisfied. He told me:
I always believed that the future of Internet is mobile. Back then I predicted that by 2010, the mobile market will be larger than the web market and that was why we wanted to build GREE to be a mobile-focused social networking service instead.
Even with all the funding and partnerships ongoing, Tanaka already had his mobile plans in the pipeline. However, it wasn't just a mobile social networking service that Tanaka was planning.
Just social networking on mobile is boring. We wanted to introduce games to our users. And [gaming was] also planned as a business model for GREE."
A few months after in May, GREE's first game, Tsuri-Suta (Fishing Star), was launched. The idea of selling virtual goods via mobile games was inspired by PC games that were already employing the same business model in Japan, Tanaka explained.
Games and virtual goods turned out to be a gold mine business model for GREE. For fiscal year 2011, paid services (virtual goods and social games) reached US$700 million in total sales.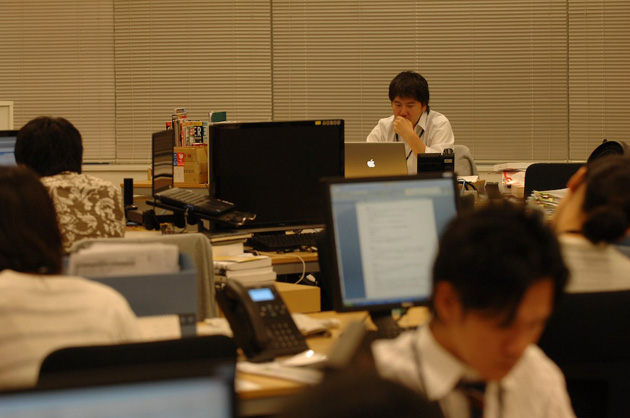 ---
IPO and overseas expansion
---
In December of 2008, GREE was listed on Tokyo Stock Exchange's 'Market of the High Growth and Emerging stocks.' In April of 2009, GREE hit 10 million users, and that figure doubled to 20 million just 14 months later, in June 2010.
In the same year, GREE moved to the first section of the Tokyo Stock Exchange. Business was great but still very much limited to within Japan's borders. To bring GREE to greater heights, Tanaka knew that he had to expand his business abroad. And the two largest markets in the world, China and U.S, are certainly part of his plans.
In January 2011, GREE partnered with China's Tencent to create a common API. Japanese developers on GREE who wish to target the Chinese gamers can now port their games over to Tencent's platform with some localization support. It's the same for Chinese developers who wish to build games for the Japanese market. So far, Tanaka says that two games were ported from GREE to Tencent and one game has gone the other way, onto GREE.
We treasure our partnership with Tencent, but at the same time, we are also working with independent game developers in China… For China, it is important for GREE to tap into that market.
But the deal that really thrust GREE onto the international stage was its $100 million acquisition of OpenFeint in April of 2011, which highlights the company's intention to impact the U.S market. GREE is also constantly seeking out other businesses in the U.S with which to establish meaningful relationships. Could that be Facebook or Zynga? Tanaka explains:
We don't have any plans to publish our games on Facebook. However, we're searching for possible partnerships with Facebook… Not only Facebook but different companies around the world.
To date, GREE has overseas offices in China, Singapore, South Korea, the UK, Brazil, Netherlands, Dubai, and in San Francisco in the States.
---
The GREE global gaming platform
---
GREE's global gaming platform is coming soon, sometime between April and June of this year. It promises to be a one-stop shop for the world to enjoy games on GREE. It will first be launched in English and Japanese, and 14 other languages will follow suit.
As you know, we have two platforms, the GREE and OpenFeint platform. So we will bring these platforms together, and it will be called the GREE platform. The brand will be only GREE after the global platform launch. All the good features on OpenFeint and GREE will be included onto one single platform.
GREE's move to merge two platforms into one is a big step towards building a truly international social gaming platform company. The company also recently announced a number of partnerships with leading game developers in China and Korea to bring more games to its new platform. On the topic of going global, Tanaka told me that he is inspired by Japanese gaming console giant, Nintendo, which generates 80 percent of its revenue from overseas and 20 percent from the local market. Right now, Tanaka said that almost 100 percent of GREE's revenue comes from the Japanese market. "We're inspired to achieve what Nintendo has achieved in the global market," said Tanaka.
GREE Group (GREE and OpenFeint) currently has more than 190 million users globally and will continue to press forward to "make the world a better place through the power of the Internet." That is GREE's official corporate message, but as Tanaka took the last sip from his coffee, he elaborated, showing that he really means it:
I think gaming is the biggest [form of] entertainment that we can have. However not everyone in the world is playing games. And for console games, there are only 200 million gamers out there. And you know, for people like you and us, you can't really imagine, but there are people in the world who don't have access to games even if they want to play. And I believe if you can play games on mobile, then everyone in the world who has a mobile should be able to play our games.