This week there are two incidents that have caught the attention of netizens in the Philippines: airport employees were caught playing Candy Crush at work, and the Philippine vice president seemed to be doing some very insensitive early campaigning during his relief operations to earthquake victims. The country's web users are not amused.
In the Philippines, there are over 30 million registered users on Facebook. While the country only has a 36 percent internet penetration, the country's top city is still touted by some as the social networking capital of the world.
What's the fuss?
Since Philippine people love social media sites. And, being a democratic country, when people see something awfully wrong, they can't avoid sharing their disgust and speaking out.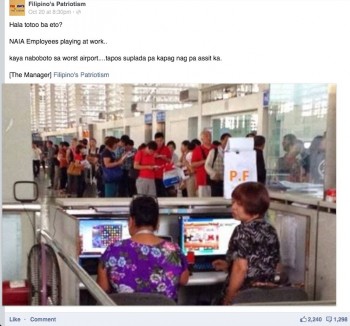 So let's go back to these recent government screw-ups. On October 20, the Fashion Pulis blog posted a photo of two officials at the Philippine Overseas Employment Association who were playing Candy Crush on the job (pictured). A Facebook page named Filipino's Patriotism posted this photo and it went viral. It now has over 1,000 comments and 2,000 likes.
As for the other case, it's worth remembering that a Philippine senator once urged for the passage of a bill that prohibits any government official putting up posters or engaging in self-serving praise of their own work – something very typical in the Philippines. While this isn't a law, this got the nod from citizens.
Then along comes the vice president. After the recent Cebu earthquake, he was seen giving out relief packs to disaster victims this week that were marked with his own name. To the nation's netizens, that smacked of self-aggrandisement. A photo of it (see below) was posted on a Facebook page captioned with: "Not good. You've reached a new low, Mr. Vice President." That's been shared more than 3,000 times already.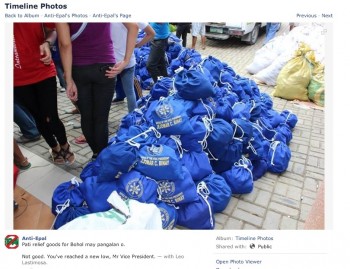 These issues don't really cause a huge political or economic effect. But Filipinos never just keep mum about things related to bad government service or attitude. We can track our roots back to the Philippine power revolution where people went out on the streets to oust a leader from unlawful rule. That happened when there was no social media to quickly spread information.
Now with social media as a powerful tool, it's easier for a national consensus to form. And so these two incidents this week represent something rotten in government.
In August, thousands of people flocked at Rizal Park in Manila to rally against senators and congressmen misusing government funds. It was considered one of the biggest rallies in the country since Philippine president Benigno Aquino was elected in 2010. What was striking was that the rallying call started on Facebook and Twitter by a few concerned citizens. It then spread like wildfire, and pushed people to join forces against corruption.
After being led by corrupt leaders in the past, today's Philippine president promised to advocate good governance. But it's not really looking that way. And so people will continue to voice their opinion and use social media as a tool to unite and discuss. Government officials must be careful of their own actions, because the people are watchful.
(Source: Inquirer 1| Inquirer 2)
(Editing by Steven Millward)