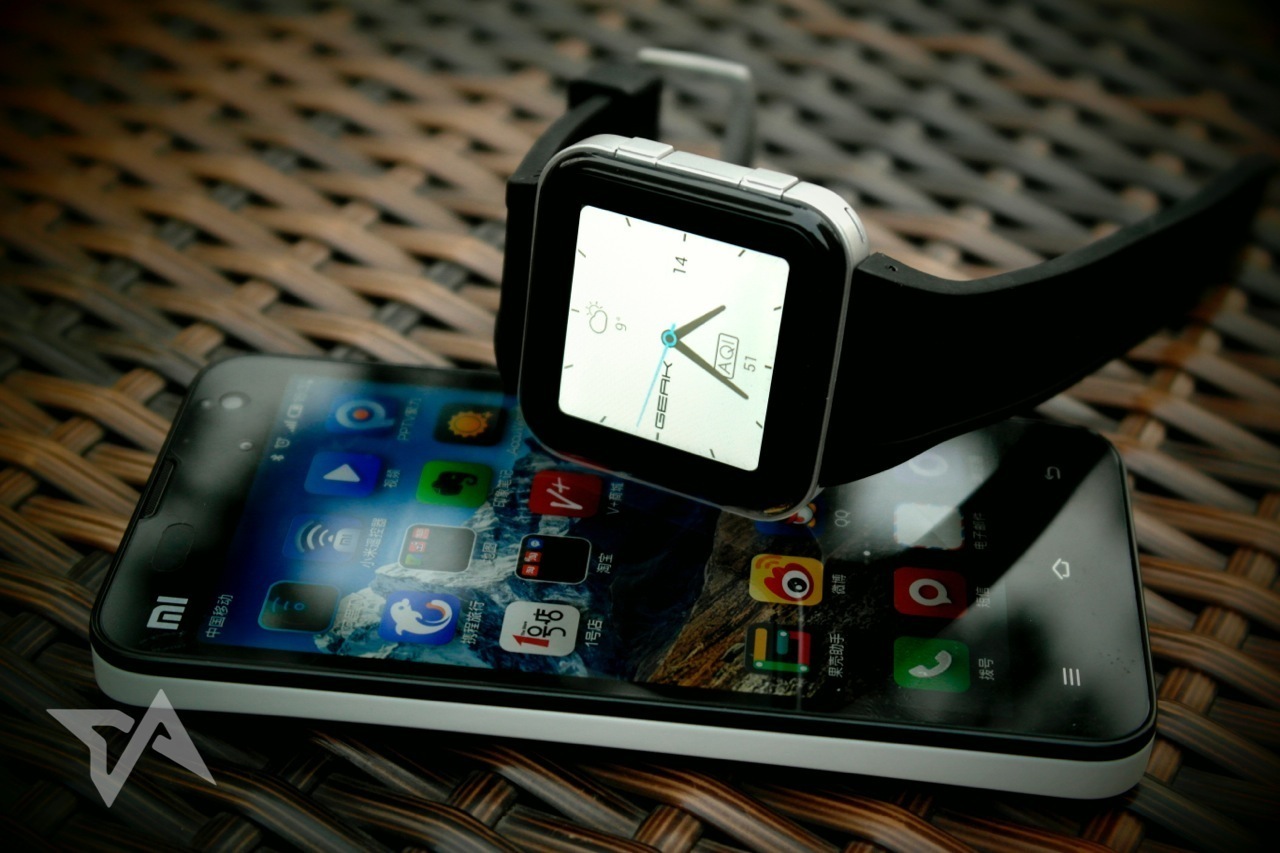 Out of nowhere, a new Chinese company appeared this summer with two new Android phones, an Android-based smartwatch, and a smart ring. That company, GEAK, turned out to be a subsidiary of Chinese web giant Shanda. It looks to be keen to challenge homegrown phone-maker Xiaomi as well as other major gadget brands with an intriguing mix of products. After the GEAK Watch sold 100,000 units in October [1], we decided to check it out for a review.
In early 2014, the Chinese firm aims to sell the watch across Europe, America, Southeast Asia, Japan, Australia, and the Middle East. GEAK's two Android-based phones will venture overseas too, following in the footsteps of China's Oppo.
But can the GEAK Watch – which, at RMB 1,999 ($325), isn't cheap – convince gadget buyers to open their wallets? What does it do and how well does it do it? Does it stand a chance up against similar smartwatches from Sony, Samsung, and many others (with more from LG and Huawei to come)? I strapped it on to find out.
Hardware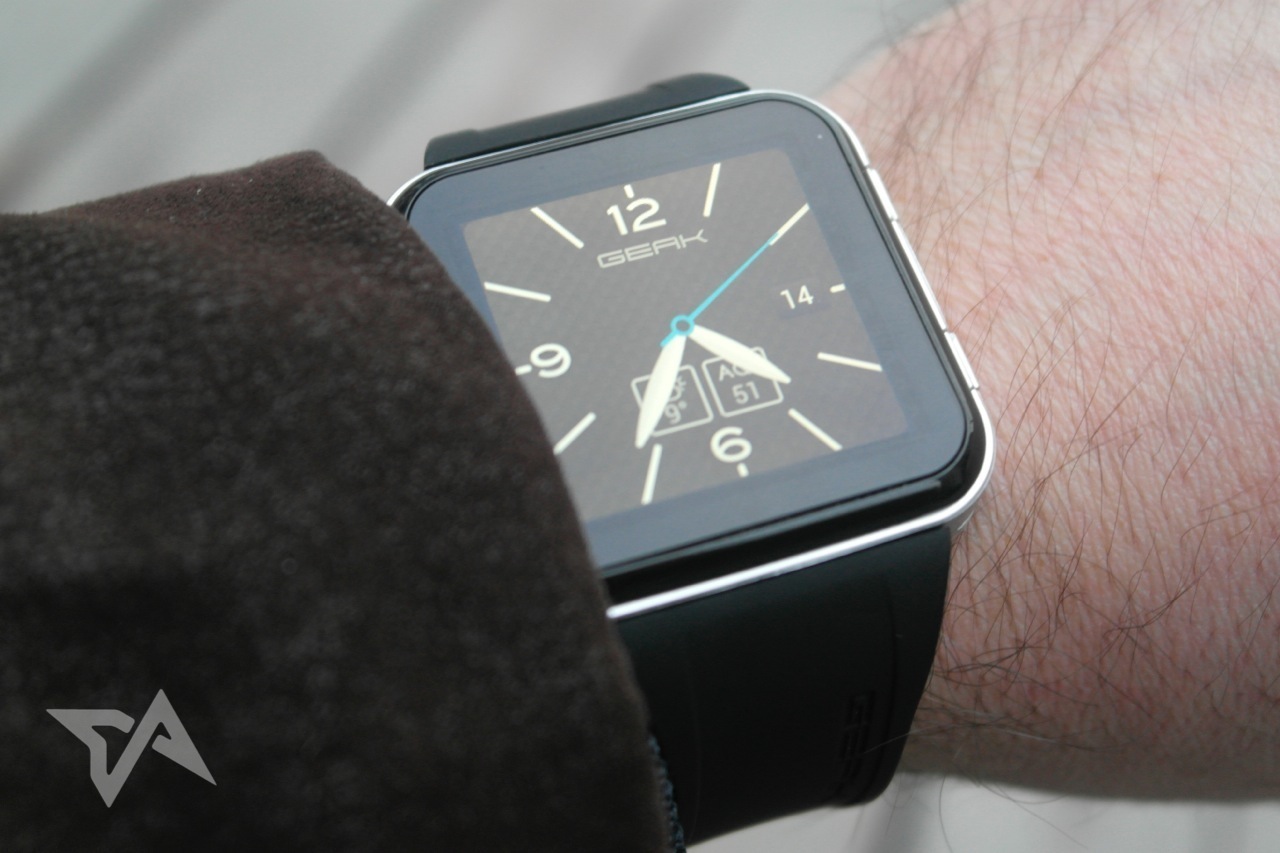 The watch hardware looks good and feels well put together in the hand – and on the wrist. The strap seems to be a rubberized plastic that feels pleasant and non-plasticky. Black is the only color choice thus far, but more colors are in the works.
But what appears in photos to be a metallic frame around the watch-face is actually plastic, as are the two buttons on the right side. As a design, it looks pretty good. Though I'm not sure if it screams "I spent over 300 bucks on this thing," which is an important factor in China's luxury market.
Screen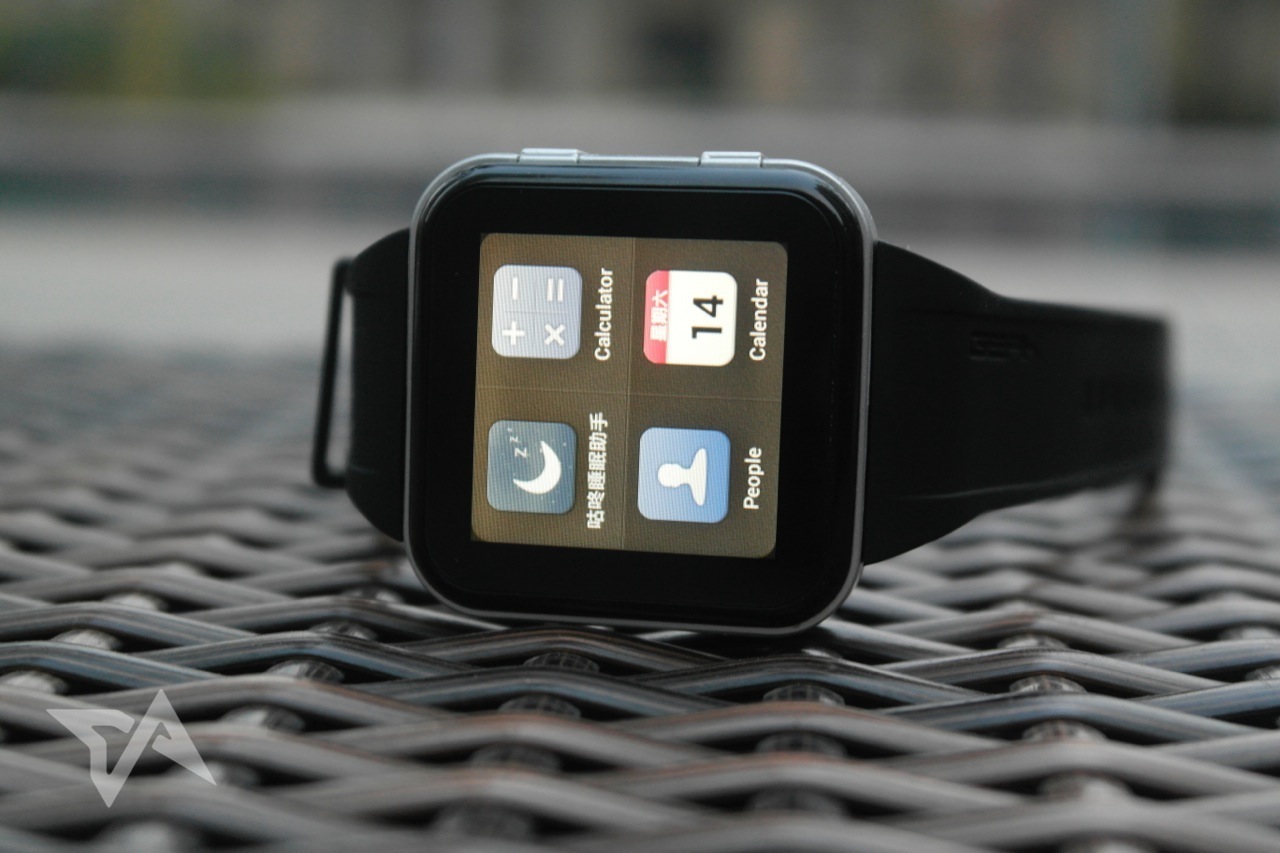 This is where I stop saying nice things about the hardware, because the GEAK Watch screen is awful. I've seen and tried out the Sony Smartwatch 2, which also has a disappointing and low-res screen. But the GEAK Watch adds to the dismay with a cheap, washed-out LCD screen that depicts black as a luminescent grey (see above photo).
In fairness, all smartwatches have low-res screens, which are likely due to small batteries (see more about battery life lower down) not providing enough juice for a 'retina'-standard screen. But a better quality LCD or AMOLED screen is badly needed on this thing.
The touchscreen, too, is below standard. It's very vague, and often misses or misinterprets swipes or clicks. I had weeks to get used to it, but it never got better – it was always a frustration. It feels more like an ATM's touchscreen, not the kind of pleasant touchscreen you have on your phone.
That awful touchscreen makes the set-up process painful when you first try to connect the watch to your password-protected wi-fi network [2]. GEAK has made a special keyboard for the watch, but the touchscreen still makes it tortuous. There will be table-thumping. There will be swearing. You might even consider sending the watch back for a full refund at this point. That shouldn't happen in the set-up process of a pricey new toy.
Apps and abilities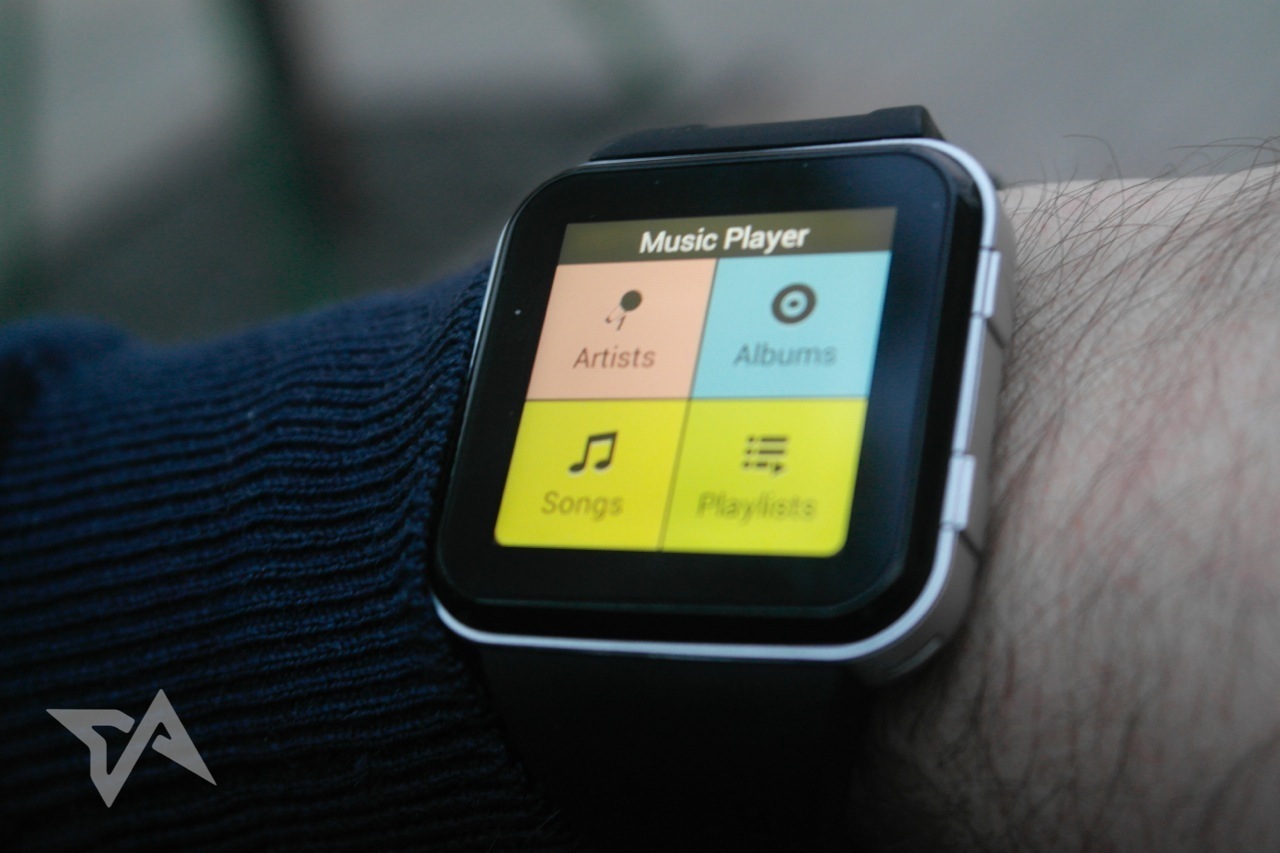 Once you've got the GEAK Watch on your wi-fi network and apologized to your family for that 30-minute swearing frenzy [3], you can now play around with the new gadget. You might like to check out the fitness tracking apps on the watch, of which there are two: a pedometer and a sleep tracker. But the sleep tracker app is empty and displays the message that it's "coming soon". The watch started selling on July 3, but it's now mid-December, so it's pretty bad to keep customers waiting that long, especially as the sleep-tracking capability is promoted on the GEAK homepage. More on that later.
So, that leaves you with just the pedometer. Initially the pedometer was very inaccurate, but the GEAK crew told me to keep updating the watch (it got a couple of updates in the weeks I was trying it out) and the pedometer would get better. As promised, the newest update makes it accurate when walking. But it's not useful for other sports. You can set a walking/running goal, and it'll show how many steps and kilometers you've gone. But the pedometer still registers ghost steps, and I've apparently walked about 400 steps whilst sat on my butt writing this. Here's the pedometer screen pictured over the weekend: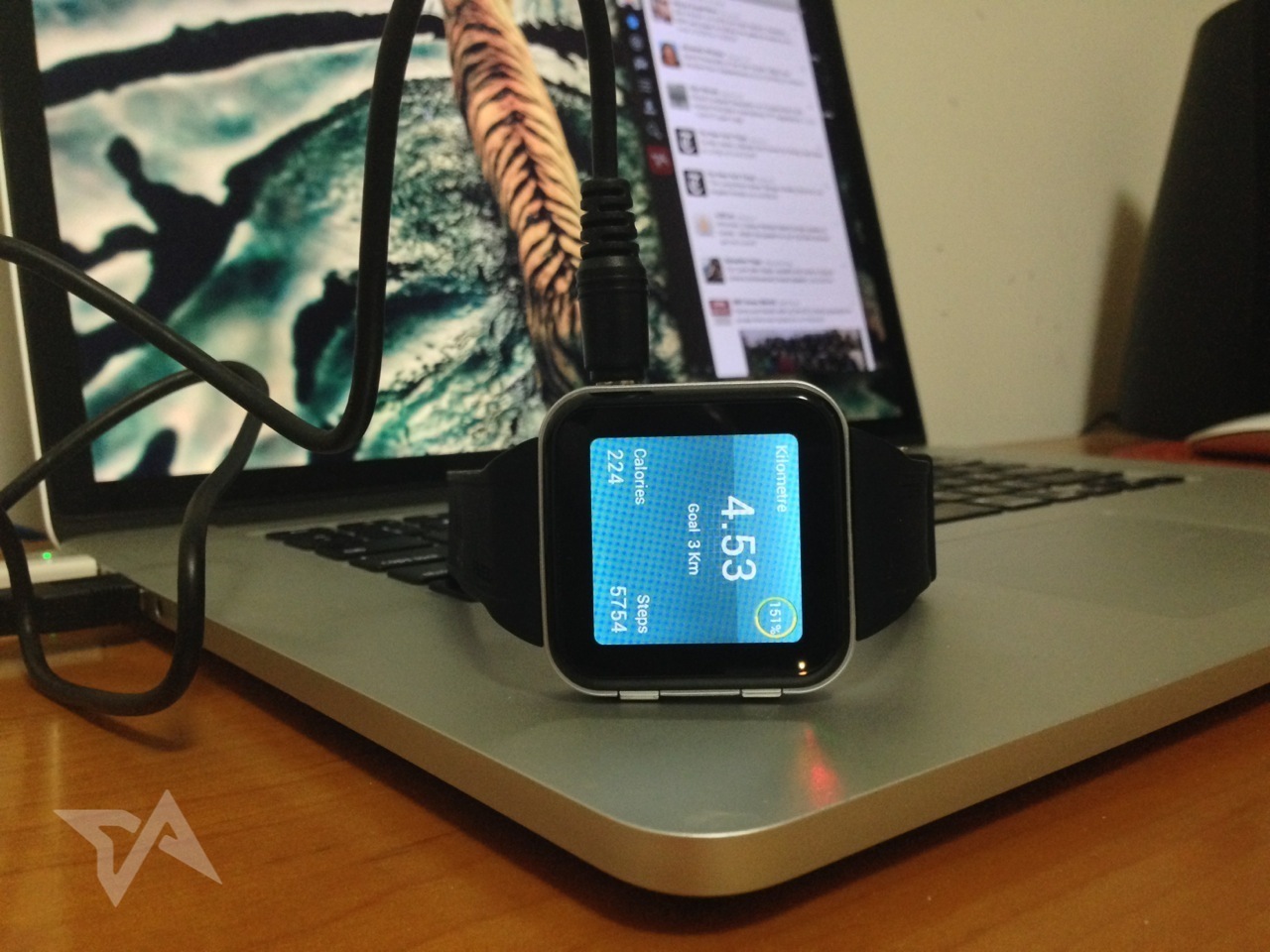 With Bluetooth activated on both the watch and your phone, the GEAK Watch becomes a new interface for your phone's SMS and calls. SMS can be read, and you can use voice dictation to send replies entirely from the watch. It worked fairly well so long as you avoid slang and don't expect punctuation.
Trouble is, this is not 1999, so people don't spend all day firing out SMS to their friends. Now, a lot of smartphone owners use online messaging apps. In China, that means WeChat. There's no version of WeChat for this watch, and no native support for getting notifications from WeChat. It would be nice to have other Chinese social networks supported, like Weibo. But nope. So the watch remained rather quiet on my wrist. The only SMS I get each day is one from my telco telling me how much monthly 3G data I have left.
But GEAK is working on getting more Chinese app developers on board. WeChat, Weibo, and lots more are promised soon.
Here's a quick video swiping through the UI. The clock is center, and there are several screens up, down, left, and right of the clock. Notice that I'm sometimes struggling to scroll and swipe due to the vague touchscreen:
The Android-based GEAK Watch has third-party apps (there's a full Android 4.1 OS beneath the watch UI), but not many of them. The app store can be accessed from the GEAK syncing app for Android and Windows. An iPhone version of that is in the works.
Battery life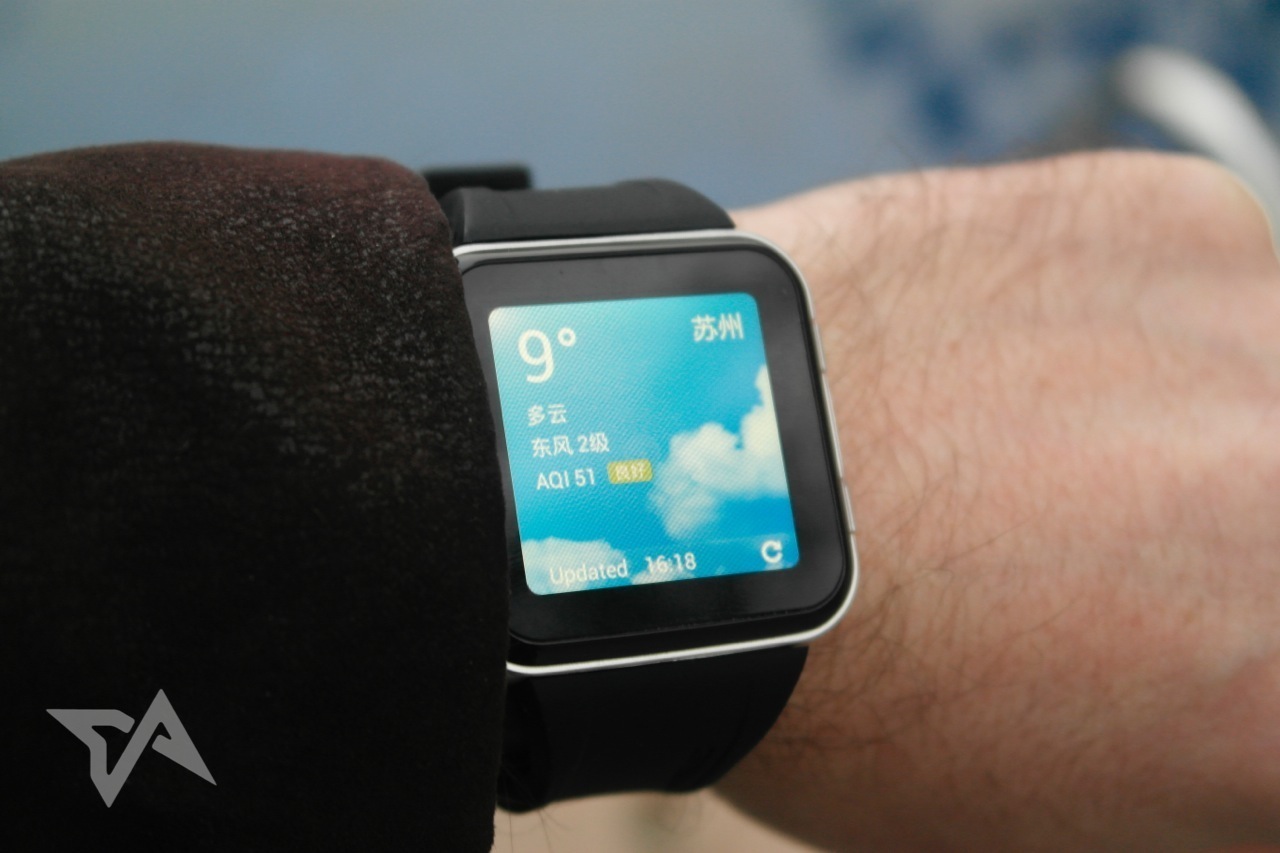 To use the GEAK Watch fully, you need to have Bluetooth turned on. But that badly hammers the battery. GEAK claims 60 hours of battery life, but 10 to 15 hours is more accurate if you're using it to its full potential. If you switch Bluetooth off (so it's not tied to your phone at all) and just use wi-fi (for weather and pollution info, news reports, etc.), it'll last for three solid days, even kept on overnight. It charges via USB into the watch's headphone port.
(Read: 40% of Chinese consumers have heard of wearable tech, but can't name brands)
But the pedometer stops working when the battery hits 20 percent, so the pedometer – the sole fitness-tracking feature on the watch – probably won't last the whole working day.
Inaccurate marketing
Remember I talked about the pedometer and the missing sleep tracker earlier? Those are both examples of inaccurate marketing by GEAK: the sleep tracker because it's missing, and the pedometer because it looks nothing like the marketing images. It's usually amateur or shanzhai gadget makers who do this. GEAK is part of Shanda, as we mentioned before, so they're not shanzhai, but it's an unacceptable sleight-of-hand to not accurately depict what the gadget looks like. Maybe it's not deliberate because the watch is getting updated and refined after it's on sale, but this might displease some customers. That could also get GEAK into a lot of trouble in other markets.
The watch's remote camera view is also badly misrepresented by GEAK's marketing material. Here's the marketing image versus the reality of that feature when I tested it out on my phone: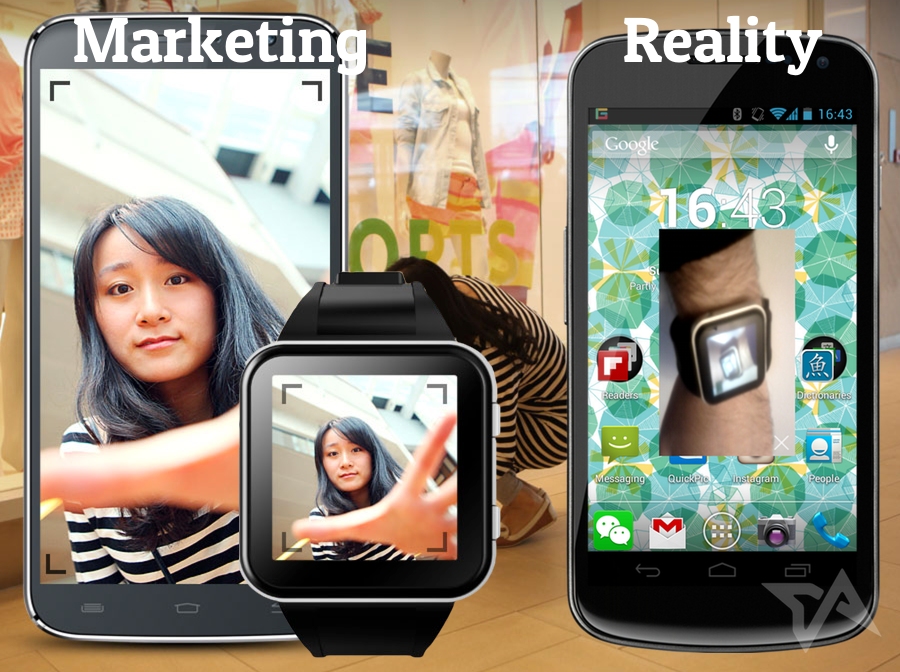 I can't think of a scenario when you'd need to remotely view your phone's camera on the app, but the feature is there and it does work, but it produces terrible photos that don't use your camera's ability fully. Not sure why that is.
Conclusion
When The Verge reviewed the Samsung Galaxy Gear, which is the Korean giant's attempt at a smartwatch, the gadget got a shocking score – a mere four out of ten. We don't usually review gadgets, so we won't give the GEAK Watch a score, but it's very clear that it would score even more poorly than Samsung's effort – it has fewer apps, fewer hardware features, an uglier interface, and a less satisfying screen.
It's GEAK's first attempt at this kind of hardware, and it shows in nearly every aspect of the device. If GEAK is to survive as a rival to Xiaomi – and to succeed overseas – then it needs to do what Xiaomi does: invest a lot more time and manpower in good-looking software. Then it needs to get the phone number of a supplier that makes decent screens. It also needs a way to integrate with what Chinese people actually use all the time on their phones – WeChat.
The current iteration of the watch feels like an in-house test version that somehow escaped from the lab. Though the SMS feature over Bluetooth works well, and the design is good and I liked the look of it on my wrist, it's hard to recommend to anyone at this price. Or at any price. The next version of the GEAK Watch, whenever that arrives, has a lot of issues to solve.
(Editing by Paul Bischoff)
---
It has now sold over 200,000.  ↩

If you root your Android phone, the Android sync app can give the watch the password automatically. But I wasn't prepared to root my phone for that purpose.  ↩

Seriously, it was like an episode of American Chopper while I was stabbing at the substandard touchscreen trying to type out my 20-plus character wi-fi password.  ↩