We heard rumors from several sites that Groupon China's domain will be gaopeng.com. A domain whois check showed that Tencent, Groupon's partner in China, was the company which registered for the domain. A Chinese blog, named Tech Web provided evidence to support its claim. Tech Web has a screenshot of a Weibo user and reporter, named Song Wei who said (translated), "In an interview with Groupon China yesterday, I learned that Groupon China will be named gaopeng (高朋). This is the final result between an American and Chinese Internet company."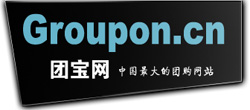 Acquire and rebrand: It wasn't as straightforward as Groupon Hong Kong or Groupon Singapore. Groupon's first challenge in China is to choose a suitable name.
The domain, Groupon.cn was taken up by another clone that has identical design as Groupon. Groupon.cn proves to be a tough nut to crack. Besides naming issues, Groupon.cn is a tough competitor which claimed to have over 7 million registered users and has so far helped its community save US$80 million. We last reported that Groupon China would be launching "very soon" and Groupon Hong Kong's CEO is expected to play an active role in Gaopeng. No exact launch dates were provided.