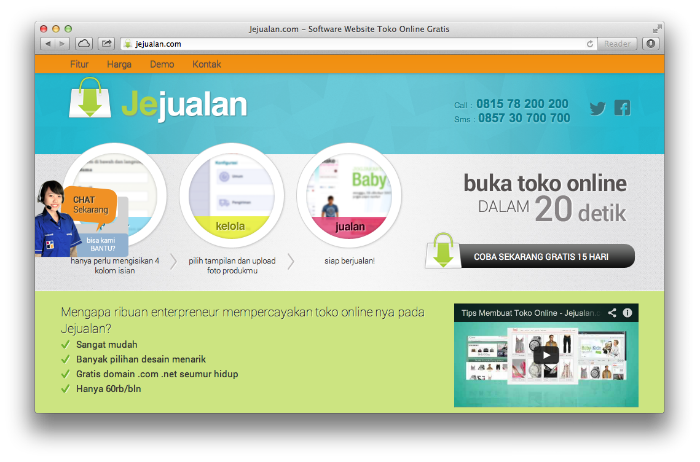 E-commerce-focused startups are starting to pop up in Indonesia's tech industry. Sellers are making better-looking online stores to make themselves look like more professional and trustworthy. Onigi and LakuBgt are some of the sites we saw emerge in 2012 to help merchants go online, and in February, we also covered Pixtem, a startup that helps people build websites and e-commerce setups easily and charges by the year.
And now we've got yet another new player: Jejualan, a B2B e-commerce website from Yogjakarta. It offers a similar service to Pixtem; the most immediately-obvious difference between the two is that Jejualan charges its merchants monthly (rather than yearly) payments.
Jejualan aims to be the biggest online store service provider in Indonesia. You can easily make an online store on Jejualan for an affordable price. It charges merchants monthly payments of IDR 60,000 ($6) and IDR 200,000 ($20) based on the packages they choose. Merchants have to subscribe for a minimum of three months. That's more expensive than the one that is asked by Pixtem, which is ranging from $55 – $550 a year. So Jejualan needs to offer more if it wants to succeed. Luckily, it has a lot of additional features.
(Update: Jejualan's $6 monthly payment is more expensive than Pixtem's lowest offering price. However, the $20 monthly plan is more favorable than Pixtem's. We are sorry for the confusion.)
Selling its features
Jejualan claims to have more features than any other e-commerce website: SMS transaction reports, a custom SEO technology, direct consultation services with e-commerce analysts, marketing tools, etc. I would say all these features definitely offer added value to merchants. Furthermore, the merchants can make their online store within minutes using one of its seven free templates, a free domain (.com, .net, .org) and free hosting, in collaboration with IDwebhost.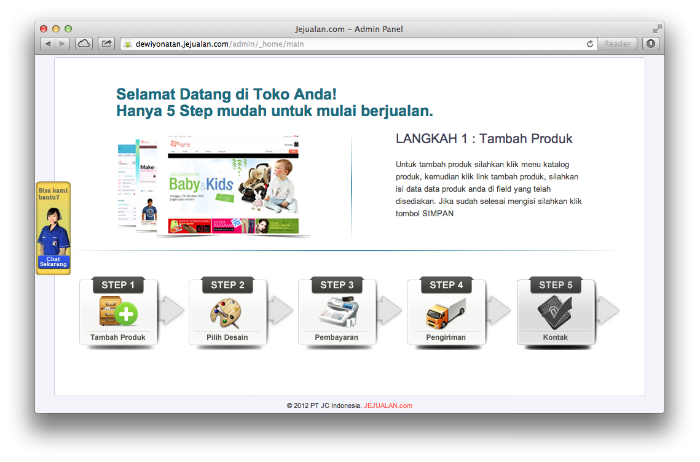 I tried to make my own website by using a free trial. I had to follow five simple steps and only got one template to choose from. After finishing those steps, I got an SMS on my phone saying that my online shop was now active. That seemed pretty fast given that it was night time when I did all of this.
Ferry Wiharsasto, the Co-Founder of Jejualan, says merchants all can get a 15-day free trial. So far, over 17,000 merchants have registered as Jejualan members. Around 500 of them have subscribed and make monthly payments. That number is still small, but Ferry added that Jejualan only has small competitors with the same business strategy. He is confident that Jejualan can still be successful.
In the future, Jejualan wants to invite more micro, small and medium-sized enterprises to expand their business by collaborating with Jejualan to create online stores and improve Indonesia's economy.
I'm still curious whether Jejualan can attract more subscribers before the end of this year while big C2C and B2C marketplaces like Tokopedia and Kaskus still rule the marketplace. Also, with the upcoming entrance of Ebay into Indonesia, I wonder if small or medium marketplaces such as Jejualan can survive.
(Editing by Paul Bischoff and Charlie Custer)