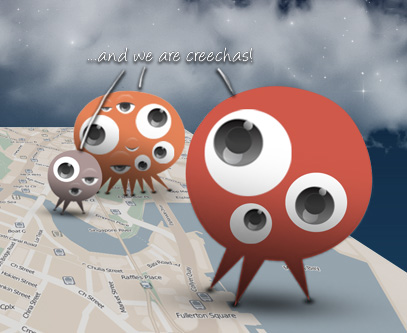 Feecha is a mobile app, developed by The Chingchong Group, that mixes location, microblogging, and cute creatures into an app.
Instead of seeing a stream of endless chatting and link shares, Feecha users will see status updates from their friends on a map. For updating statuses, Feecha allows pics, video, and links. Every update is also tied to a location.
For example, if I made a comment on China, I can move my update and stick it to China on the map. I can also bitch about a restaurant and stick my update on street where it is located. Each eye stands for an update. So the more eyes there are, the bigger the monster grows which also means there are more comments on that location. Clicking on it will let you view all the updates in a neat stream.
Because of its LBS nature, I believe most users will use Feecha as a review app for local restaurants and cafes. But then again, there's no way to pinpoint exact location to throw our reviews. It's hard to see why people should talk about themselves or chat with friends on a map (it just feels stupid).
For that, babbling and chatting on Twitter without the pressure to tag a location is way better. Sharing links and videos on Feecha is also against our common day-to-day practice. For example, if I wanna share this Ogilvy China video on Feecha, which location should I tag? In China? But my friends from Singapore or Japan wouldn't be able to see or share it.
Even so, I must say that Feecha has a beautiful interface and I'm having fun exploring it. Kudos to the team for thinking out of the box.
But I do have doubts about its purpose. Is it built for local reviews (like Dianping, Yelp)? A social network (like Facebook)? Or is it a place for people to learn about news through friends (Twitter, Sina Weibo)?
I'm a little confused, so let's call it an LBS microblog for now. Or perhaps I'm not using Feecha right. Give it a try (iTunes link) and let me know what you think.