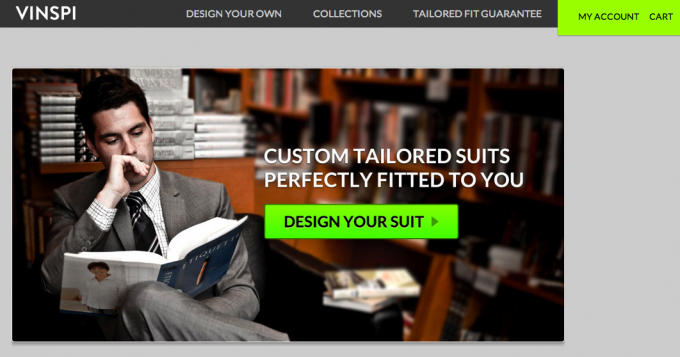 AngelCube incubatee, Vinspi, wants to change the Australian e-tailoring landscape by providing a platform for men to custom design a suit that hangs perfectly on your body. The designs also come with a tailor fit guarantee which ensures that customers are satisfied with the product.
The idea of Vinspi struck Ivan Lim, a Bruneian based in Melbourne, one night as he was considering an outfit for the evening. He wanted to suit up, but at the same time, also wondered why most men do not tailor their suits since it would fit better and boost confidence. Ivan elaborates:
[It] was expensive to tailor a suit in Australia. It was tedious and troublesome with multiple fittings [and the need] to find a local tailor. I realised that there might be an opportunity to provide custom tailored clothing for men online helping them look much sharper with far less effort, no shopping mall journeys and endless dressing room fittings.

Vinspi comes from combining two words that describe what we're about. The first is 'vintage;' suits and all the essential clothing elements of every man's wardrobe are timeless, almost enduring in style. The second word is 'inspiration;' It describes the creative process that customers can engage with to design clothes that fit what they like to wear.
At present, Vinspi targets only Australia, and aims to win the customers by providing a personal touch along with great customer service. Ivan tells us more:
I wanted to focus on giving great customer service to customers with a dedicated phone number, a local return address and 24-hour turnarounds on customer emails. Starting on a focused single geographic location allows us to do that.

Quite a few companies make the mistake of trying to sell to the whole world but what inevitably happens is that they struggle with giving a great level of customer service that is mandatory, especially for something like the tailored clothing experience. Vinspi wants to bring the tailored experience online and excellent service and personal touch is a big part of that.
Ivan also points out that Vinspi's greatest differentiating point from other competing companies is that they are set on establishing a dedicated local presence for customers in different geographic locations, meaning they are looking to have a dedicated local number in their time zone, local return addresses, and fast response times.
It reminds me a little of Chinaccelerator startup graduate, Made To Fit Me, but catered to men.
Vinspi looks pretty promising, especially since the price of tailoring can get really steep in Australia.
Ivan, the only founder of the startup, has also received secondary education in Singapore prior to moving over to Australia. He has also accumulated his e-commerce experience by being one of the first few team members of OZHut, one of the largest e-commerce site in Australia. He eventually left OZHut in the pursuit of his wanting his own startup, and hence the birth of Vinspi.