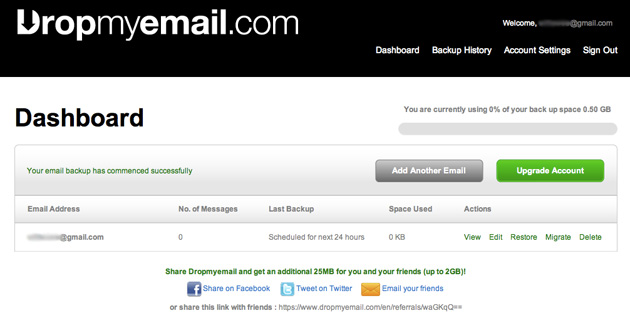 What's your most important communication tool for work? Most likely it is not Facebook, Twitter, or Weibo — but rather your email. Perhaps most of us take it for granted but email data and contacts do get lost on occasion. Sometimes it's over a storage software update or sometimes a cloud service fails.
A back-up plan is in everyone's best interests. And Singapore-based startup, DropMyEmail, is hoping to be that back-up solution.
The service saves your email data making sure it's intact even when there's a host outage. All you have to do is to input your email address and password at Dropmyemail.com to authorize it to back up your data at 24-hour intervals. This back-up interval is of course customizable, and no technical knowledge is required. Users can back up as much as 500MB of data at no cost. A 5GB solution would cost only $9.99 per year.
Dropmyemail.com has no access to the stored data that it manages. Users have access though, which helps them recover and migrate email data when an outage happens.
The founder of DropMyEmail is John Fearon who also runs DropMySite, a service that backs up websites. Dropmysite also offers email back-up, but John told me that he has plans to move all email back-up solutions over to Dropmyemail in the near future. I asked about whether there was any potential investment in his product yet, but John could only give me a "no comment" reply.
Beside DropMySite and DropMyEmail, John also runs EatAds, an online marketplace for outdoor media in Asia, with a presence in Singapore, the Philippines, Hong Kong, and Vietnam.