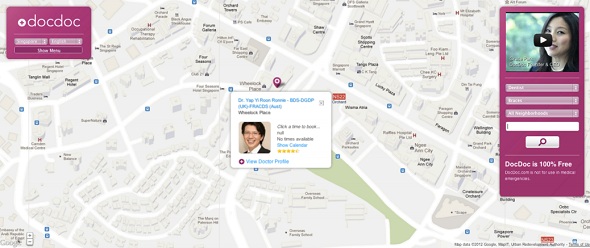 The food industry in Singapore has undergone a revolution lately as online reservation services are making it easier for diners to get a restaurant table and beat the crowd.
Now, the healthcare industry in Asia could see a similar change as a multi-platform service called DocDoc makes its debut in Singapore. Lounging at a hotel room in the posh Fullerton Hotel, the team gave SGE a preview of the web app today. It enables patients to instantly search for the right doctor, look at their schedule and make an appointment right away, saving time and effort. The app will go live sometime this week.
According to co-founder Hadi El Solh, the heathcare system typically only caters to two kinds of customers: Those on medical emergency and need help right away, and those who can afford to wait a month to see a specialist. A third group is neglected.
"There are people in the middle who, for example, have a really bad back and can't concentrate at work and need to see a doctor in the next two days or three, so this system really caters for them," said Hadi. The startup is targeting medical tourists as well.
Besides helping patients, the app improves the efficiency at clinics and generates more customers. Right now, many of these clinics depend on pen and paper to manage their patients, while others do slightly better with spreadsheets, online calenders, or proprietary software. These solutions, however, doesn't offer the complete package that DocDoc has.
The service is similar to ZocDoc, a wildly successful Internet startup in the United States that also allows customers to make appointments with doctors instantly. The company has secured some US$95M in funding, most recently closing a Series C round last year.
DocDoc (Angelist profile) hopes to replicate the same success in Asia. Headquartered in Singapore, the startup has already closed a seed round worth "in the millions" from several well-known figures, including Silicon Valley-based venture capitalist Dave McClure, who is also the founder of 500 Startups; former DBS Chairman Koh Boon Hwee; and Jungle Ventures, a Singapore-based tech startup incubator under the NRF TIS scheme.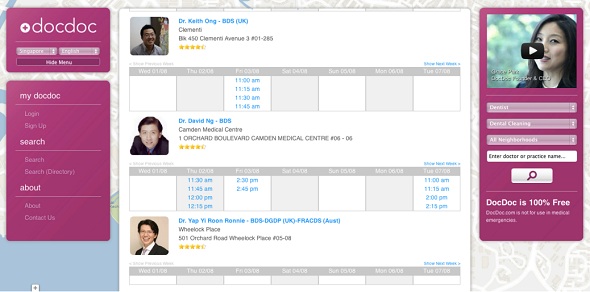 The founding team is stacked with decades of combined corporate experience. Grace Park was the managing director of ASEAN operations for medical tech company Medtronic, a Fulbright Fellow, and a United States Army captain. Hadi El-Solh was a senior strategy consultant at McKinsey and an associate at Goldman Sachs.
The Chairman of the company is Cole Sirucek, formerly an investor with Temasek Holdings, an investment company owned by the Singapore government. He has entrepreneurial experience as well, starting Epic MMA Club, a mixed martial arts training club, and Pluto Networks, a wireless data networking company.
Explaining why they've decided to leave their lucrative careers in pursuit of a risky idea, Cole says that something like DocDoc is an opportunity of a lifetime that is worth making a real run at.
"I think the platform is going to lend itself to credibility because doctors understand credibility is super important… I think that's what it takes to win in this space," he added.
Kylie Ho joins the startup as the country manager for Singapore. She was from Medtronic as well, serving as a sales and marketing manager for the company's Diabetes business in Southeast Asia.
Elaborating on the app's features, Kylie says that doctors can log in to check their calender to find out which slots are booked, and details about their patients. Should doctors need to shift an appointment, they can do so easily and notify patients. Once a time slot is confirmed, the system sends SMS reminders to consumers to ensure that they turn up for the medical checkup.
For consumers, DocDoc has a map showing all the doctors that are available. They can dig deeper to find out more details about the doctors, things like specialization, language spoken, user reviews, and gender. When making an appointment, they can do so on behalf of someone else. DocDoc is free for patients, while clinics have to pay a flat monthly fee.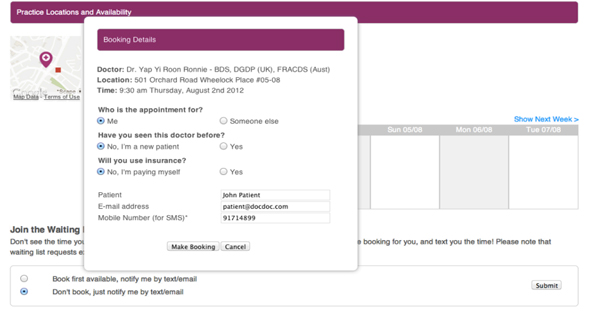 Already, the system has a database of over 11,000 doctors, covering dentists, dermatologists, cardiologists, gynaecology, and many more. While available only on the web for now, the startup is working on an iPhone app that will be ready by mid-August.
The company plans to expand rapidly across the continent: It will launch in South Korea in a few weeks, followed by an unannounced third country. Pushing the company's regional efforts is a team of 15.
The healthcare industry in Asia could see strong growth in the years to come as affluence rises, more medical tourists arrive, and healthcare technologies advance.
According to Frost & Sullivan, the Asia-Pacific healthcare market will grow to hit US$521 billion, taking 33.1% of the global share, up from 27.5% in 2012. Startups in Asia are already seizing the opportunities presented to them.
Like DocDoc, Hulihealth and MediSherpa are two new online services that let users access a database of doctors and make appointments. CtrlWorks, MedF1, and Caresharing have also caught our attention. CtrlWorks' Puppet telepresence robot enables junior doctors to accompany senior doctors remotely and accomplish tasks, while MedF1 helps medical practitioners search for the best drug dealers around (the legal sort, of course).
Meanwhile, Caresharing has developed a web app for managing patients with chronic diseases that it hopes will see widespread adoption in the Philippines and beyond.
See: Migraine Buddy: migraine tracking app acts like a doctor, connects you to one too