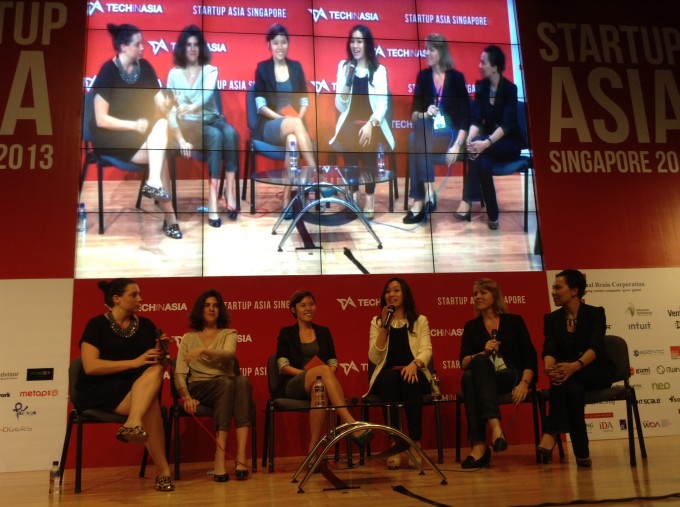 Following up, we have an all-woman discussion panel on female entreprenurship featuring the following entrepreneurs:
Aileen Sim, Co-founder at BillPin
Alexis Horowitz-Burdick, Founder and CEO at Luxola.com
Meri Rosich, Founder and CEO at Quality Time Lab
Gina Romero, Head of The Athena Network, Singapore
Carmen Benitez, Founder at Fetch Plus Inc
#15:38: Alexis finds that gender is not an issue in hiring. As for Carmen, she finds that hiring woman will affect business in a positive way.
#15:39: For Meri, she finds that hiring female might provide a different perspective to the business in terms of marketing and strategy and that having gender diversity is a good idea. Gina also agrees, but emphasizes that it is essential to hire people that will fit the company's culture.
#15:43: The question posed to Gina: What is the statistic of women demographic in the startup scene? She states that 5% of startups are owned by woman in Singapore, while in Silicon Valley, 10% of the startups are founded by women.
#15:44: Alexis shares that employs 60% women and 40% men in Luxola.com. Carmen finds that we should encourage woman to work in startups, as she feels that at the end of the day it is easier to work in a startup.
#15:47: Aileen says the main point is to find the best person for the job, but not to discriminate any gender. However, there is still no doubt that everyone has gender biases, and that our mindset has already been conditioned.
#15:49: Vanessa pointed out that in the panel, Aileen is the only Asian entrepreneur stage. What is typically expected of an Asian woman and do such expectations are actually stops them from entering startups or even taking on leadership positions?
#15:50: Meri mentioned that every country has different expectations for men and women, and says that we should encourage and have more female role models to show that the startup world is exciting.
#15:57: For Alexis, she mentioned that they are adding 20% headcount to Luxola every month and is on the lookout for the best skillset.
#15:59: Carmen said  that she will not rule off hiring females who are bearing a child as they might be able to work from home, instead from the office.
#16:00: Meri also commented that females entrepreneurs should not hold back if they would like to start a family. She added that multi-tasking could even make themselves more efficient.
#16:03: Meri mentioned that Asia is the next emerging market with a great talent pool be it female or male.
#16:05: Gina advise potential female entrepreneurs to actively seek for opportunities in the market for their ideas. Meri also agrees that everyone should dream big, and to look out for investors for instance.
#16:09: An audience brought up the issue of funding from investors for female entrepreneurs, whether if it is difficult to convince investors to invest in them compared to a male entrepreneur. Meri says that it depends on the investors you speak to. If the investor is a good match for you, they will create a good connection and bring your business to the next level.
#16:10:Alexis finds that the most important issue is to sell your idea and represent your startup well, and not an issue of gender when it comes to investing.
#16:13: Meri finds that it is similar to dating. As for Aileen, she has yet to run into problems explicitly when looking for funding, or have investors asking her questions about her personal life.
#16:18: That's all folks for the live coverage for this interesting discussion! Stay tuned for our Startup Arena coverage coming up next!
---
This is a part of our coverage of Startup Asia Singapore 2013, our event running on April 4 and 5. For all our newest Startup Arena pitches, see here. You can follow along on Twitter at @techinasia, and on our Facebook page.