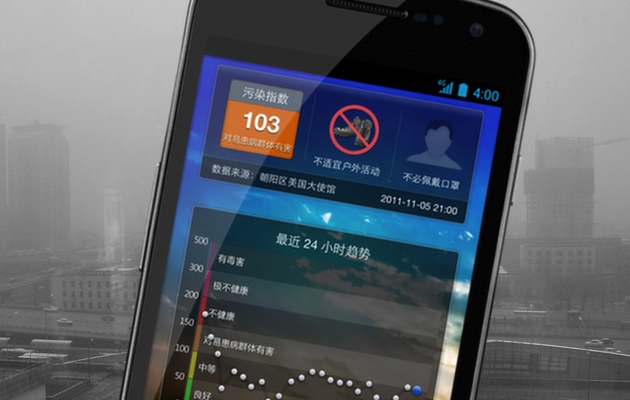 A Beijing-based startup called Fresh Ideas Studio has just released perhaps the most good-looking local air quality app for iPhone and Android, called DirtyBeijing. But it could find itself getting into trouble, as it uses the stricter US Environmental Protection Agency (EPA) index – not the one that's mandated by the Chinese government.
The Fresh Ideas app, free for iPhone and Android, gives Beijing smartphone-toters what's called the 'PM2.5' read-out, which refers to a kind of especially small 'particulate matter' that's less than 2.5 micrometers in diameter. Those are believed to cause more damage to urbanites' lungs than the larger pollutants that are indexed by the older system that the authorities here use. And so the EPA-backed PM2.5 measure is controversial as it gives a truer picture of what's in Beijing's soupy "fog."
The app's name in English – DirtyBeijing – is a bit risky too, though its Chinese moniker translates to the more bland "Beijing air pollution index." The app is a bit basic, with only one screen, but it's still brand-new and just at version 1.0. At the moment it just has two graphs, the PM2.5 read-out, and two pieces of advice for those who're venturing outdoors – including whether its advisable to wear a mask. The startup says that the app's background image will also change so as to give the city's residents a "more intuitive feel for the pollution." Lovely. It could do with better explaining the index number and colour-coded system (pictured below), and why it's so useful.
---
"Excellent" = "Unhealthy"
---
And why exactly is PM2.5 so significant? Well, if you mosey over to the government-run China National Environmental Monitoring Center page for Beijing its differing metrics say that the air quality was (yes, it's nearly two days out of date) "excellent" with an "air pollution index" of 27. Whatever that means. But the EPA PM2.5 metric begs to differ, and says that the Beijing air at that same time – using the app's useful 30-day history timeline – was a code-orange "unhealthy for sensitive groups" with an index of 125. Spot the difference.
And so PM2.5 is still a sticky subject. My colleague Charlie noticed last week when the city of Nanjing accidentally posted its PM2.5 pollution data on its municipal Weibo page – and then quickly deleted it.
Out of interest, the EPA system gained notoriety in China last year when an oxygen-starved staffer at the US embassy in Beijing got over-creative with his/her adjectives, and on its official @BeijingAir account described the city's ozone as "crazybad." The Joycean slip, however, served to alert people to a truer measure of what nearly 20 million people have to breathe in every day. And now they have a very sweet-looking app to help them visualize and gauge what's in the air.
In the time it took me to write this, Beijing's ozone deteriorated from 165 to 172, and is now a code-red "unhealthy."
The free app for iPhone and Android can be snagged from the Fresh Ideas homepage.