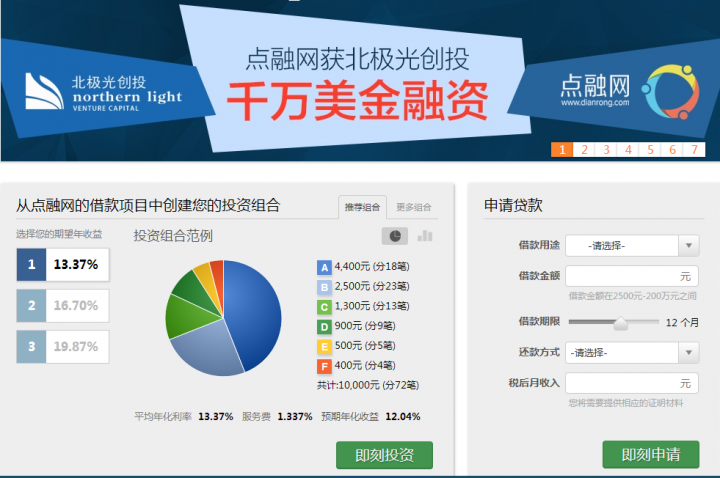 Chinese peer-to-peer lending service Dianrong raised "tens of millions of dollars" in a series A funding round from Northern Light Venture Capital, according to Kuailiyu.
As of the end of November 2013, more than RMB 100 million ($16.5 million) was lent through Dianrong. Kuailiyu states China's P2P lending market is worth RMB 20 to 40 billion ($3.3 billion to $6.6 billion) per year and is growing at a rate of 300 percent year-on-year. In 2012, China's then 200 P2P lending firms handed out RMB 10 billion ($1.65 billion). Other major domestic players include Renrendai, Haodai, PPDai, and Rong360.
That's a lot of competition in a fast-growing market, but Dianrong's two co-founders aren't just a couple fresh grads with accounting degrees. Soul Htite previously cofounded Lending Club, a successful US-based P2P lending service. His co-founder Guo Yuhang is an experienced intellectual property lawyer. The company is also cooperating with China Orient Asset Management Corporation, a state-backed institution that buys and disposes of non-performing loans.
Northern Light general manager Yang Ruirong says he expects China's P2P lending sector to boom in five to ten years. In Beijing, the local government is trying to lure similar web-based P2P lenders with perks like lower rent, tax breaks, extended credit, and cash rewards.
Some of the biggest customers for lenders like Dianrong are startups and other small- to medium-sized businesses. These cash-strapped companies often find it difficult to get loans from large state-run Chinese banks, which are more inclined to lend to other state-owned enterprises.
Because of low barriers to entry and lack of collateral for borrowers, however, the risk of fraud and default are high. But this hasn't hampered the sector's growth, and we expect to see more investments in P2P lending services in the coming months.
(Source: Kuailiyu via TechNode)
(Editing by Terence Lee)