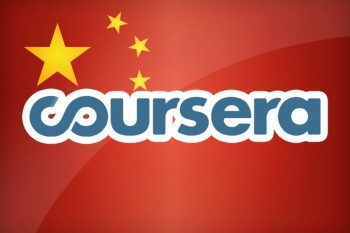 Fans of good, free online education probably already know of Coursera. And while the company already has some offerings from Chinese institutes of higher learning like Peking University, it's getting ready to take China a lot more seriously with the launch of Coursera Zone, a Chinese-language portal that will offer Chinese students additional resources and help them navigate Coursera. To accomplish this, Coursera has partnered with Netease, which will also be hosting all of Coursera's lecture videos locally to greatly increase video streaming speed and quality within China.
Specifically, Coursera Zone will include Chinese-language course synopses, testimonials, FAQs, and forums. It sounds like a lot of the actual courses offered will still only be available in English, but it should be much quicker and easier for Chinese students to find and learn about the courses they're interested in, and the discussion forums for popular courses will likely be full of lecture translations and homemade subtitles.
Additionally, Coursera says that local university partners like Peking University and National Taiwan University are expanding their Chinese-language course offerings on the site.
It remains to be seen how Coursera Zone will work out, and it sounds like a good bit of the platform's usefulness will come from user-generated content, so we'll have to wait and see if the users show up. But given that China is full of hungry students looking to get ahead, I don't expect that will be much of a problem. And it's hard to be too critical of a program that's trying to make top-flight education available to everyone.
Coursera Zone will be accessible via Netease's Open Class platform at open.163.com.