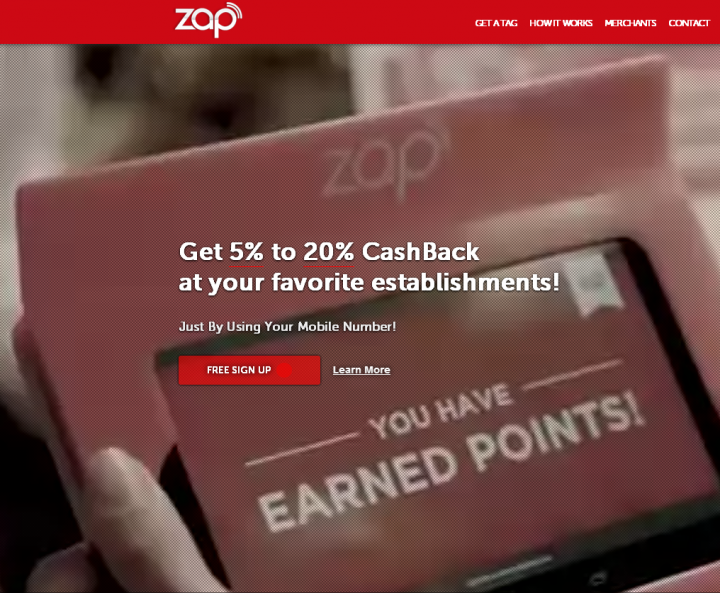 Philippines-based consumer rewards startup ZAP has secured US$850,000 in funding from Siemer Ventures, Seawood Capital, existing investor Kickstart Ventures, and other local angels.
First pitched at our Startup Arena contest last year, ZAP offers discounts and cashbacks to consumers in the Philippines. When a shopper taps their smart sticker, called a ZAPtag, to a merchant's terminal upon purchase, users are rewarded cashbacks which they can use for future purchases. Shoppers don't need an app or a smartphone – just one of those special ZAPtags.
The startup has almost doubled its merchant partners from 180 in November to 350 at present. One of its biggest partnerships is its latest tie-up with telco Smart Communications for its in-house rewards program, Smart Rewards.
ZAP's newest funding round allows for its further expansion in the Philippines and Southeast Asia. ZAP CEO Dustin Cheng says:
Merchants have been reaching out to expand our services in their other branches outside Metro Manila for quite some time now. Closing this round allows ZAP to be present in key cities in the Philippines such as Cebu and Davao by the third quarter of this year.
See: 5 startups that let you get freebies and discounts in the Philippines
By the end of the year, the startup aims to grow its partner establishments to 1,200 across key cities in the Philippines. Likewise, it aims to expand into Bangkok, capital of Thailand, and Jakarta, capital of Indonesia, by the first quarter of 2015. The team will leverage on the alliance with Philippine incubator Kickstart Ventures and the recently launched Singtel Innov8 Sparks network as it expands and ventures overseas.
To match its growing partner merchants, ZAP aims to drive more customers onto its rewards platform. ZAP is unable to disclose the number of registered users, but Cheng says the total number of users has tripled since the start of the year.
ZAP is set to roll out new features in the coming months. One of its targets is to provide promo coupons that merchants can advertise on the platform. An app that can work side-by-side with the ZAPtags is also in the works.