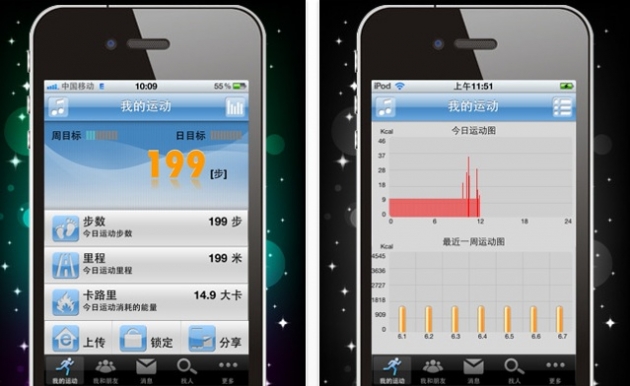 A Chinese start-up is trying to ride a new wave in health and fitness in the country with its multi-platform exercise app called Codoon. As more younger Chinese folk move away from the traditional calisthenics or tai ji quan (tai qi) in the mornings, and instead take up jogging and other work-outs, Codoon is aiming to beat Nike (NYSE:NKE) and Adidas (ETR:ADS) – or indeed Baidu (NASDAQ:BIDU) or Tencent (HKG:0700) – to the punch.
The start-up is called LeDong, and is based in Chengdu, western China. It has made a whole suite out of Codoon, with free apps for iPhone, Android, Windows, and Mac. On smartphones there are actually two separate apps under the same service: one called Codoon Running, and the other being Codoon Body.
Of course, for more detailed analytics, a hardware sensor accessory is needed. And so Codoon users can snag either the company's own 'Scale' (for 150RMB) or 'Fitness Tracker' for (199RMB) to get read-outs of, say, sleep patterns or body-mass index. All data generated during your runs – or walks, or tennis games, or whatever you're up to – gets synced to the Codoon servers to be cataloged and viewable across the apps, or even on the web app. The company uses the B2C Tmall.com site to sell its hardware – obviating the need for more tricky physical distribution across the country.
For a social element, selected friends can view your activity and post comments – or you can challenge other folks to stretch your athletic range. In theory, you could even use it to find fellow health-freaks in your area with whom to play a match or jog a few blocks. As with a few other such services, your GPS-enabled smartphone will enable you to track cycling, walking, or running routes.
Major sportswear companies have such apps already, of course – such as the Adidas MiCoach, or Nike Running (aka Nike+) – but no major Chinese web company has yet sprinted in to this segment, perhaps because of the software-hardware combo being difficult to get right.
LeDong secured just over 10 million RMB for Codoon at the end of last year, and so far claims 50 million registered users, and 50,000 hardware units sold. Most of the service's income comes from hardware sales, so its something they'll need to push harder.
Sign-up at the Codoon homepage, and snag the free apps as well.
[Source: 36kr – article in Chinese]