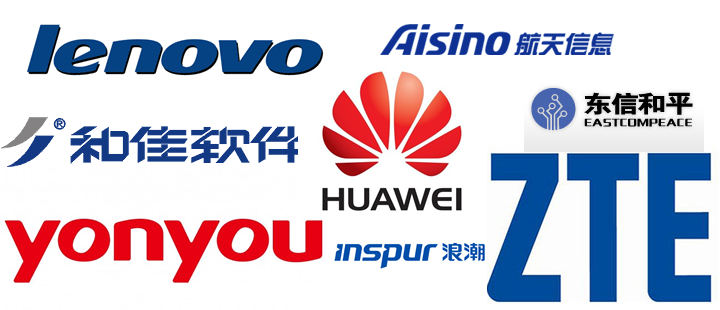 Whether it's a lawsuit, boycott, or armed warfare, you can always bet that someone stands to gain from conflict. The heightened tensions over cyber security between the US and China has elevated beyond rhetoric as of late; China is threatening foreign IT companies with a new "security review" system that could ban them from the country.
American technology is deeply ingrained into "critical verticals" in China like security, government, military, finance, and energy, so pushing out foreign IT companies is no small task. Still, this debacle could be an opportunity for China to take steps toward weaning the country off of foreign tech and replace it with homegrown alternatives. A few of the Chinese brands we've listed below are ones you'll recognize, but a few you might not. And while some areas lack direct homegrown tech equivalents in China, those companies will surely be looking to fill the gaps.
Bloomberg reports that China technology stocks have rallied the most in three months since the US accused five Chinese military officials of cyber espionage.
Core IT hardware – Eastcom, Inspur
Even though the controversy has just recently bubbled to the surface again, China has actually been pushing for alternatives to its dependence on IBM (NYSE:IBM), Oracle (NYSE:ORCL), and EMC (NYSE:EMC) (collectively known as 'IOE') for the nation's core information technology systems since last year. The new security reviews are targeted at these three companies in particular.
In the wake of Edward Snowden's PRISM and NSA revelations, several Chinese IT firms' stock prices rose sharply. CNStock.com pointed out seven companies in particular that could potentially rival IOE, the biggest being Eastcom (SHE:002017) and Inspur (HKG:0596). Inspur makes servers, while Eastcom manufactures pretty much any type of electronic card you can keep in your wallet.
Bloomberg reports that Inspur has already started a campaign to get IBM's customers in China on board. The company's stocks rose nearly 10 percent shortly after the Chinese government advised the country's banks to ditch IOE servers and software due to security concerns. However, staff at state-owned banks argue China currently has no real IBM counterparts yet. Local companies are still lagging behind.
Lenovo (HKG:0992) just bought IBM's entire low-end server business in January, boosting its presence in that sector. It's also in an ongoing joint partnership to develop and sell EMC's server technology.
Telecommunications – Huawei, ZTE
Cisco (NASDAQ:CSCO) has provided vital telecommunications equipment to China for years, even helping to build the country's infamous Great Firewall (allegedly). The New York Times, however, reports China has pulled Cisco into the crossfire. China says Cisco is complicit with US cyberspying, although Cisco denies the allegations.
See: Spying or No, China is Stuck With American Technology
In line to take Cisco's place in China are Huawei and ZTE (SHE:000063). While they might be more familiar to the consumer world as smartphone manufacturers, they are in fact two of the biggest telecommunications equipment makers globally. Huawei especially has been pushing to build infrastructure in nearly every region outside the US, so there's no reason to think it couldn't take over in China.
PC makers – Lenovo
HP (NYSE:HPQ) and Dell (NASDAQ:DELL) are also on China's hit list, putting Lenovo at the forefront of future PC sales. Lenovo is the clear winner here as one of the only PC makers in the world to see PC sales actually experience growth in the past year.
On that note, China has banned Windows 8 from all public sector computer purchases and is working on its own homegrown operating system. That means Microsoft (NASDAQ:MSFT) is getting hit on both the consumer and enterprise front, as it also provides core IT technology for many Chinese corporations.
ERP – Aisino, Yonyou, Hejia
Enterprise resource planning companies like SAP (NYSE:SAP) and Oracle have a lot to lose to Chinese competitors like Aisino (SHA:600271), Yonyou (SHA:600588), and Hejia (SHA:600093). Just yesterday, Yonyou and Aisino's share prices both jumped over six percent.
The Chinese government has also advised domestic companies to drop American consulting firms like BCG, Bain, and McKinsey. Several local consultancies have cropped up, looking to get a piece of the pie.
When you look at the situation from a long-term perspective, it becomes clear that China's government wants the country's core technologies to be independent of foreign influence. Whether it's motive is security or something else, these aren't reactionary measures – they're part of an attempted country-wide reform.
These are just a few of the companies that stand to benefit directly from the ongoing spat between China and the US. VRV, Join Cheer, ICS&S, Star Net, Venustech, Founder, Tongfang – the list goes on.
But even if China were to somehow switch to a local-only diet, many of these domestic companies still have foreign stakeholders, have changed between foreign hands, or simply aren't advanced enough to replace their American predecessors. China cannot simply erase American technology from the entire country, but it can certainly lessen its footprint.