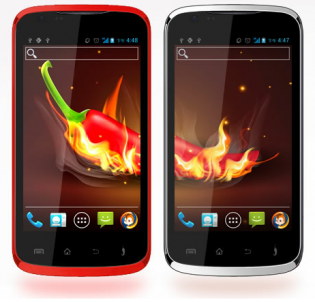 Things are getting pretty crowded in China's cheap smartphone market. So crowded, in fact, that three domestic phones all launched yesterday, within hours of each other.
Qihoo 360's oddly-named AK47 handset went on sale for the first time ever via Tmall and 360Buy and sold out within two hours. Tmall reported it sold 1,000 of the handsets within the first ten minutes of the sale, but beyond that, it's not immediately clear how many of the handsets were sold.
Shanda's dual-core Bambook also launched yesterday, but apparently the official Bambook website had some problems, and as a result, Shanda hasn't been able to gloat about share any of its sales figures.
Finally, e-commerce site Beidou launched a preorder for its dual-core Little Pepper handset (pictured above). The preorder appears to be ongoing, so if you're looking for a dual-core smartphone running Android 4.0 that costs $110, you might want to check it out.
Not to be outdone, reigning cheap domestic smartphone king Xiaomi also held a prize giveaway yesterday to attract more users to its site.
In short, the cheap domestic smartphone market here is getting pretty full, pretty fast.
[Beijing Times via Sina Tech]