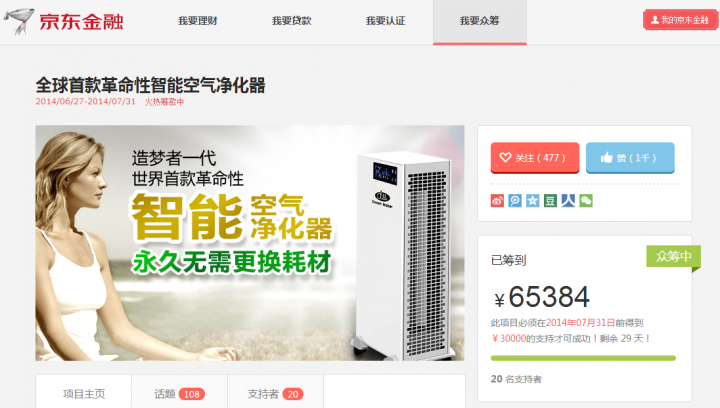 China's second-biggest ecommerce firm JD yesterday launched a new Kickstarter-like crowdfunding platform (hat-tip to TechNode). Coufenzi has 12 projects so far, sporting a combination of gadgets, movies, charity drives, and concerts.
The site bears a strong resemblance to Demohour, currently the biggest crowdfunding site in China with an emphasis on consumer electronics. Demohour has earned its reputation as the go-to place to crowdfund new gadgets in China, but JD certainly poses a threat with its far broader name recognition. Other Chinese crowdfunding sites include Dreamore, Knewbie, Angelcrunch, and iChuangye.
Coufenzi is part of Jingdong's other financial products and services like an ewallet and loans. The launch comes shortly after rival ecommerce giant Alibaba announced its own crowdfunding tactic for domestically-produced movies. The financial product allows anyone to invest as little as RMB 100 (US$16) and up to RMB 2,000 (US$320) in a select movie of their choice. Those deposits are bundled into the company's wealth management and insurance products that pay a fixed interest rate.
Crowdfunding in China tends to be a much more short-term method of raising money compared to Kickstarter and Indiegogo. Typically, gadgets are nearly finished and ready to be manufactured before the campaign begins, while movies have already begun production. It takes much more than just proof-of-concept for a crowdfunding site to approve a new campaign. In that respect, crowdfunding sites also function as early bird pre-order stores.
See: Crowdfunding in both China and the US, these headphones sync wirelessly so people can listen together
Last week, JD also launched its JD Smart Cloud service to tap into the smart home appliance market. It released an 'internet-of-things' protocol to connect these devices, and already has several Chinese electronics manufacturers on board including Haier, Hisense, Midea, TCL, Huawei, and Lenovo. This is just a pilot program for now, but JD will probably open the service up to more manufacturers in the future, likely to include some of the gadgets campaigning on Coufenzi.
If anything cool or exciting comes out of Coufenzi, you can be sure to find it in our monthly wrap up of China's best successful crowdfunding projects.
Update:We originally erred and called the service Fenziqian. It's called Coufenzi.