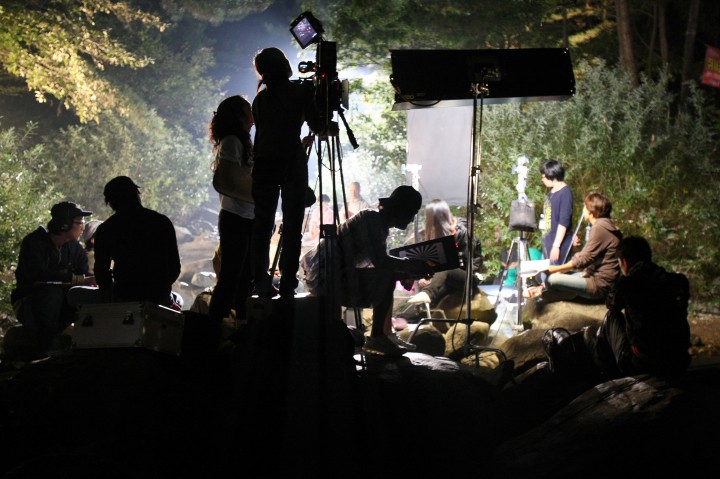 Polybona Films president Dong Yu unnerved some of China's movie industry veterans at last week's Shanghai International Film Festival. The head of China's equivalent to Miramax predicted most of the country's production studios would be working for BAT – Baidu, Alibaba, and Tencent – within three years.
Indeed, China's big internet firms are working their way onto the big screen, and many analysts predict many more mergers and acquisitions to come.
In the past, movie studios in China were largely state-owned, but a growing number of private ones have popped up looking to make a buck. Thanks to video portals going legit and waging a nationwide offense against piracy, copyright fees are on the rise, boosting revenues for those production studios. Estimates value China's domestic film market and associated derivatives – games, memorabilia, fan clubs, etc – at as much as RMB 100 billion (US$16 billion).
Alibaba crowdfunds movies
Alibaba announced last week it will create a new financial product that allows anyone to invest as little as RMB 100 (US$16) and up to RMB 2,000 (US$320) in a select movie of their choice. Those deposits are bundled into the company's wealth management and insurance products that pay a fixed interest rate. Not only does this function as a new form of revenue generation for production studios, it also crowdsources data on what films will appeal the most to Chinese audiences.
Right now, Alibaba's offerings are all pretty safe bets that have already gone into production, including two Tiny Times sequels, Nicolas Cage action flick Outcast, and popular Chinese novel adaptation Wolf Totem, according to WSJ.
Alibaba also took a US$804 million majority stake in Hong Kong-based ChinaVision Media Group, which produces several popular Chinese-language TV shows and movies. The company sunk US$1.22 billion in China's most popular video portal Youku (NYSE:YOKU) in April. In the same month, it contributed to a US$1.05 billion investment in streaming media partner Wasu.
Showing how its ecommerce muscles can flex in favor of the movie industry, shoppers bought two million movie tickets in a 24-hour mobile shopping event on Taobao back in March.
Tencent flexes its movie marketing muscle
Also at the Shanghai Film Festival, the head of Tencent's video division Sun Zhonghuai unveiled a new investment program that will fund several movies starting this year. Six titles are already on the list.
Tencent (HKG:0700) has a background in entertainment media with strong gaming roots, and Sun mentioned its social products – namely QQ and WeChat – can be extremely effective marketing tools. "In the creative industries, networking is a core resource," he said. Sun estimated Tencent could get 10 to 50 million paying subscribers to pay RMB 36 (US$5) per month for exclusive online movies and TV shows.
Besides QQ Video, Tencent has also partnered with video portal and TV maker LeTV in the past on Smart TVs and set-top boxes. LeTV last year bought its own TV production studio for US$260 million to boost original content.
Tencent also owns a smaller stake in ChinaVision, which is majority-owned by Alibaba.
See: 'China's answer to Pixar' raises US$20 million from GGV Capital, first movie to come in 2015
Baidu's trying, but other players united against it
Baidu (NASDAQ:BIDU) won't be left out, either. In February, the company announced it footed a US$40 million bill to produce a 3D movie called Kong about the Monkey King character from famous Chinese novel Journey to the West. The movie is the first ambitious step by Baidu's Aquamen, a new Los Angeles-based film venture (UPDATE: A Baidu spokesperson tells Tech in Asia that Baidu and Robin Li have no connection with production of this film beyond Li's position as president of the Chinese Cultural Chamber of Commerce of the Private Sector).
The search giant has acquired two big video portals – PPS in 2013 and iQiyi in 2012. iQiyi has been working with several television studios to set up a content production division and beef up content offerings. Altogether, iQiyi would be involved in the making of nearly 30 in-house programs.
However, it's possible that Baidu has fallen out of favor with China's movie sector. In November last year, a group of China's biggest online video sites collectively sued Baidu for US$49 million, alleging the search engine enabled video piracy by returning search results linking to illegal downloads on QVOD, one of the most popular desktop and mobile applications for downloading and watching videos in the country.
See: China seeks record $42 million fine in prosecution of online video piracy app
The State Administration of Radio, Film, and Television
reports
(PDF) the Chinese box office brought in US$3.6 billion last year, up 27.5 percent on 2012. The figure's expected to grow more than 30 percent to US$4.6 billion next year. China's homegrown films outperformed Hollywood's offerings, taking seven of the top 10 highest grossing movie spots in the country.
Beyond the big screen, China's internet giants lie in wait as dominant future avenues to reach audiences, and they're all hungry for original content. Go-Globe reported in January that China's 450 million online video viewers watch 5.7 billion hours of video every month.