UPDATE: The Guardian reported today its website is now accessible from within China again. No explanation was given as to what prompted the block in the first place.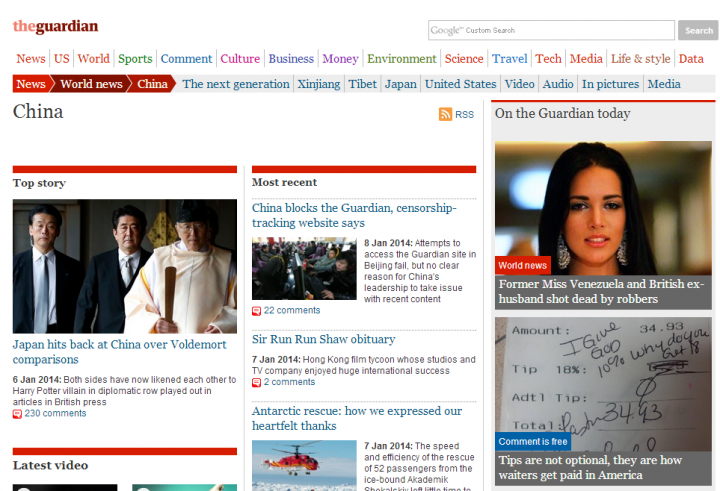 UK-based newspaper The Guardian's website is blocked in China as of Tuesday, according to censorship monitoring activist website Greatfire.org. Tech in Asia staff in China have confirmed the block today.
The move comes as a bit of a surprise since both the Wall Street Journal's and Reuters' Chinese-language sites were just unblocked on Monday. Those sites took a two-month involuntary hiatus from the Chinese internet after they published stories about the shady connection between former premier Wen Jiabao and American bank JP Morgan Chase.
But only WSJ's and Reuters' Chinese-language sites were blocked, while their English versions remained completely accessible. It's strange that China chose to block the English-language Guardian. Indeed, the newspaper seems as baffled as anyone else:
The reasons for the Guardian block are unclear – no China-related stories published by the Guardian in the past two days would obviously be perceived as dangerous by the country's leadership.
A scan of The Guardian's headlines just prior to the block reveal nothing particularly inflammatory. Two posts on Monday, January 6 could have unnerved party officials, one about China versus Japan tit-for-tat name-calling and the other concerning ethnic tensions in China's turbulent Xinjiang province. Neither of these, however, are much different or more critical than reports put out by dozens of other major media outlets.
Hopefully, the block will be temporary as it was for WSJ and Reuters, and not permanent as it is for The New York Times and Bloomberg.
(See also: Here's a list of websites blocked in China)
(Editing by Steven Millward)