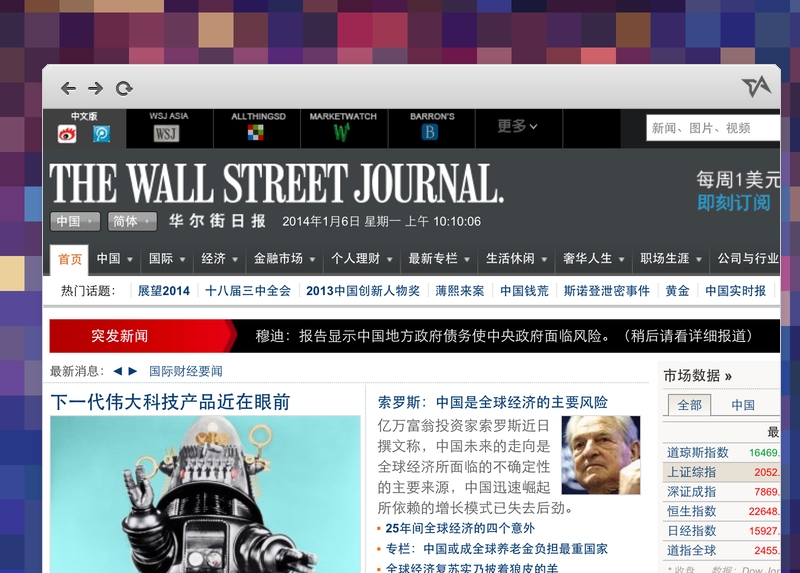 China's Great Firewall blocks a number of big-name sites every year. Last year, news sites were under fire for their reporting on China's leaders and their wealth, and so Bloomberg, The New York Times, and the Chinese-language sites of Reuters and the Wall Street Journal were blocked in 2013. But, in a rare move, two of those have been unblocked over the weekend.
Numerous Chinese web users noticed that the Chinese editions of Reuters (cn.reuters.com) and the WSJ (cn.wsj.com) are now accessible in the country. They both remain available on Monday morning local time.
While the English versions never got whacked by the Great Firewall, the Chinese editions of both sites were blocked in the country on November 15.
The WSJ Chinese site was blocked after it followed up on reports from The New York Times about cosy ties between global crooks JP Morgan Chase and former premier Wen Jiabao. The Chinese edition of Reuters went blank at around the same time. That all came amidst a global controversy over foreign reporters' visas. Reuters' veteran reporter Paul Mooney was one of several foreign reporters that faced being kicked out of China at the end of the year as authorities seemed not very keen on renewing their journalists' visa. However, all the affected reporters were eventually granted the paperwork to keep their bureaus operating.
What with the mid-year controversy over the gagging of the Southern Weekly paper, 2013 was a new low point for journalism in China, and the skyline for 2014 looks no brighter. But these two sites reappearing is at least a glimmer of hope.
(See also: Here's a list of websites blocked in China)
(Editing by Paul Bischoff)