China's online market is vast and growing at an insane rate – Chinese e-commerce sales are projected to triple from now to 2015 – which makes it a draw for all luxury brands. But it's also so very different from western markets that it demands a whole new approach. That's where the annual Digital IQ Index comes in, a detailed report by the L2 Think Tank that grades brands on their carefully crafted approach to social marketing and web presences for Chinese consumers.
Last year this Digital IQ report ranked three global companies as having "genius"-level marketing chops: Audi, Burberry, and BMW. This time around, four luxury brands get this accolade, led by cosmetics firm Estée Lauder (see the top ten table below).
So how is this calculated? To make the grade, brands need to do a lot of optimization, social outreach, and clever online marketing. For this report, the grading structure is 30 percent each for doing social media and localizing your site, and 20 percent each for digital marketing and mobile compatibility: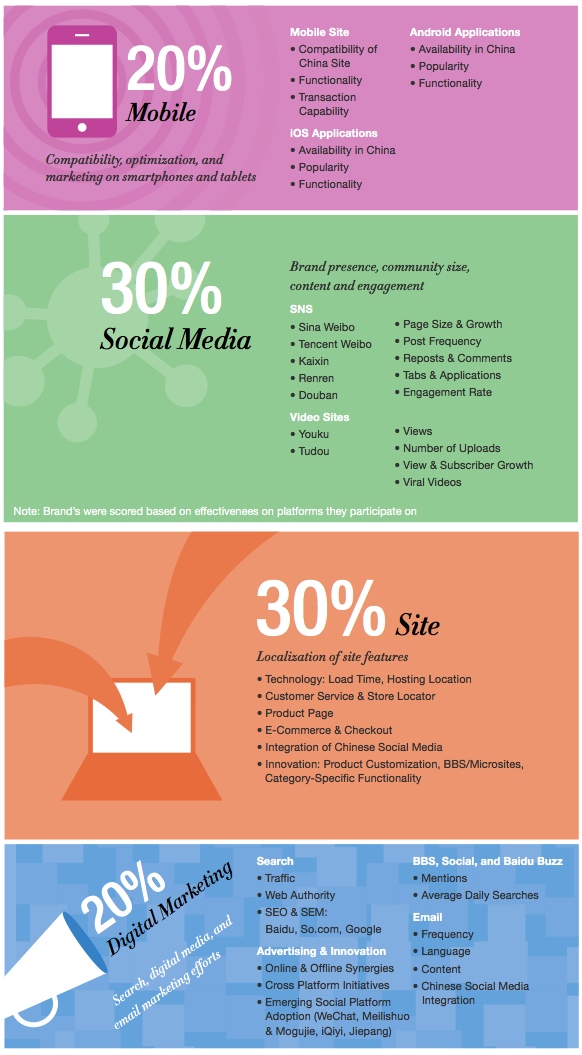 With all that factored in, here's the top ten. Note that Audi once again appears as a "genius" brand when it comes to its online work in China: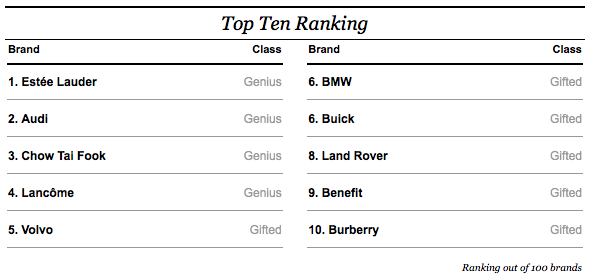 As for the winner, the L2 Think Tank team notes that Estée Lauder has a web "presence on six social platforms [which] yields a social universe of more than 1.6 million fans." Not the biggest number among these global companies, but the report states that its strategy is very social and well integrated.
Being social in China
Aside from things like search engine optimization for Baidu, luxury brands in China need to get themselves on the right social platforms. The report finds that social media adoption is up on every site, with Twitter-esque Sina Weibo still number one. A big winner this year is the video site Youku (NYSE:YOKU) where 60 percent of the analyzed brands in this report now have a social media presence: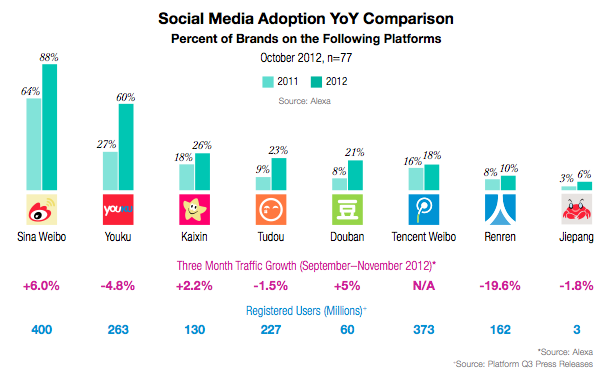 That sure has been a long time building up, as we reported on brands like Cartier and Burberry opening brand video channels on Youku way back in the summer of 2011. Once again we see luxury automakers doing especially well, this time exploding their number of channel video views on Youku in 2012: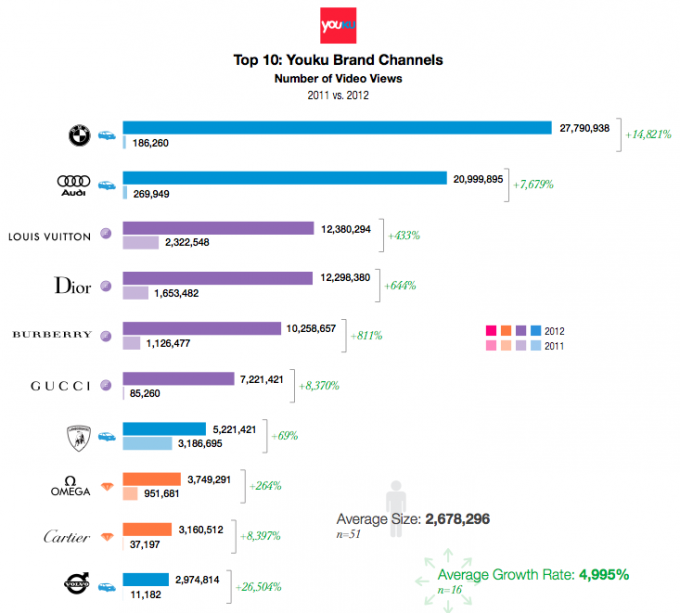 Of course, there are new platforms emerging, and brands need to be aware of reaching out via the messaging app WeChat (as we've seen Starbucks do so well this year), or on the Pinterest-like Meilishuo. Plus, the Baidu (NASDAQ:BIDU) owned video site iQiyi is aiming to challenge Youku for classy brand video channels, so that outlet needs to be considered as well.
Keeping the conversation flowing on Sina Weibo
Car makers again make a strong showing on China's most important social service – Sina Weibo. Cadillac is top in terms of fans/followers on Weibo in this luxury segment, and fashion labels Dior and Coach are playing catch-up this year: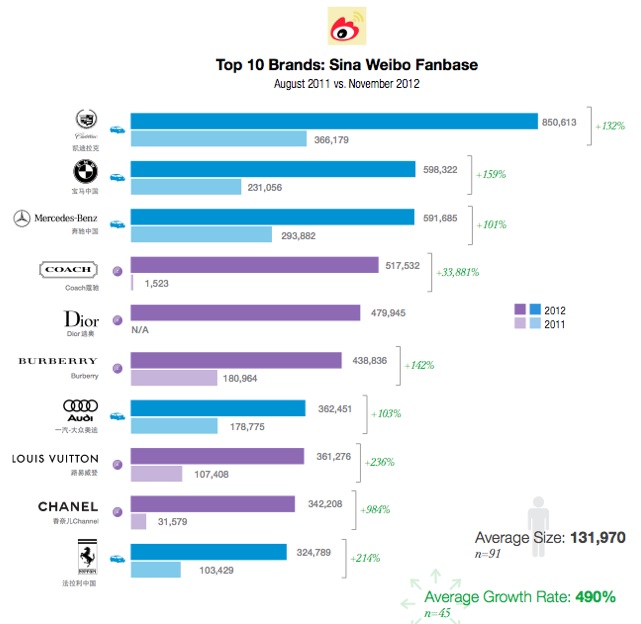 For more information about these brands and their strategies, catch the full report here. Plus, L2 has made a nice video overview that runs to three minutes:
(Mobile readers: Digital IQ Index®: China 2012 from L2 Think Tank, on Vimeo).