Sina Weibo, it's not me, it's you. My friends agree. You're getting kinda erratic these days. You're trying to do too many things and you're just falling apart. And you're getting a bit fat as well. Perhaps it's time we broke up?
I'm not the only one feeling this way towards Sina Weibo these days. It's long been China's top social network, a sort of Twitter on steroids, speed, and whizz, combining microblogging with gaming with e-commerce with brand pages with a mobile wallet with pretty much anything else that Sina (NASDAQ:SINA) can throw at it. Over time, Sina Weibo's UI has become ugly and cluttered beyond all belief. Alibaba's recent investment in Sina Weibo seems to have made things worse, with more ads appearing on the Sina Weibo site.
How bad has it now become? I logged into Sina Weibo today for the first time in a couple of months, and I gasped at what I saw. It looks practically unusable. Sure, it has sometimes had one banner ad near the top, but I never before had to scroll down to see my own social stream. But today, right now, none of my content is visible without scrolling. That's fundamentally awful UI and UX.
Here's how it looks. I've overlaid my own notes to show what's happening. You can click to enlarge the image: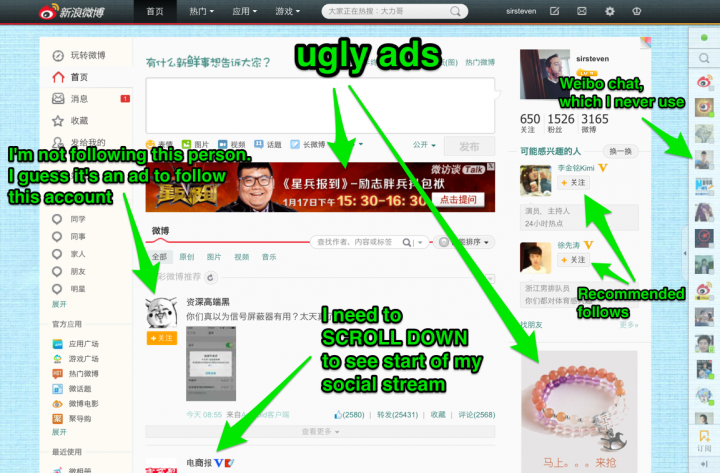 It used to be a lot cleaner. In this image from December 2011 (from an article in which I praised Sina Weibo for leading the way on Twitter's redesign), you can see that Weibo's main page looks a lot better, and my social stream is clearly visible without having to scroll down: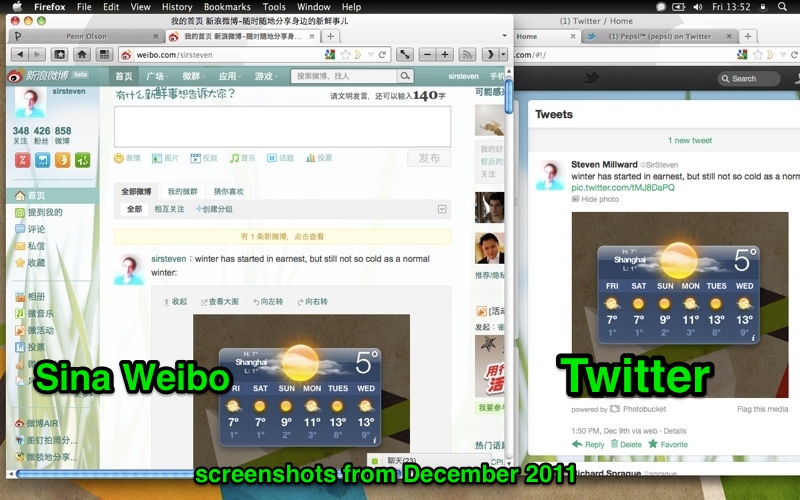 The current Sina Weibo mobile app is not as bad. After a full-screen splash ad upon launching the app, your social stream is visible under a banner ad. Lower down you'll see distractions in the form of suggestions for other people to follow. Here's the main stream: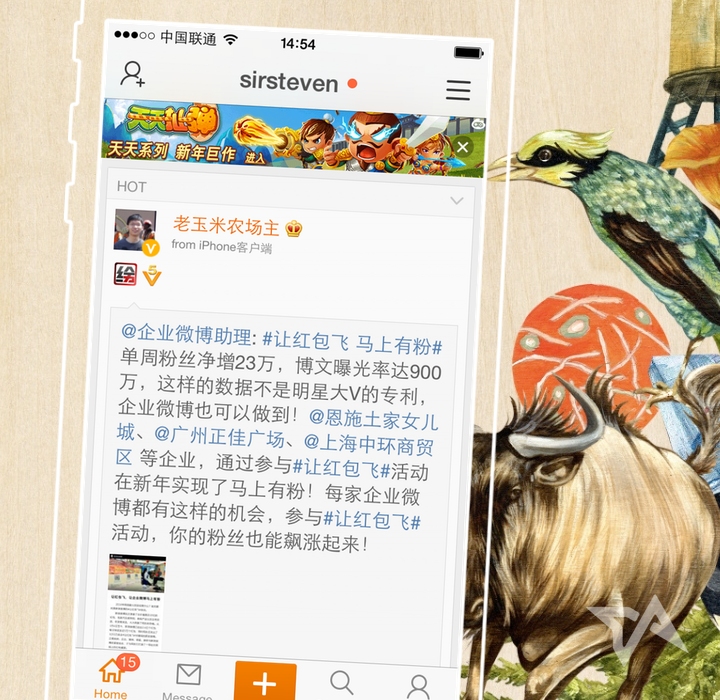 Moving the debate to WeChat
Sina Weibo is already under threat from WeChat, Tencent's popular messaging app. With Sina Weibo clearly getting fat and ugly – beyond even the usual rate of feature bloat that's common among land-grabby Chinese web services – surely that will push more people to WeChat. That's because WeChat is not just about messaging – it has has a Facebook Wall section called WeChat Moments – or pengyou quan in Chinese – to which you can share links to articles, video, or songs, or add a photo, or an entire album. It's quite like Path.
While Sina Weibo's official app is not so shambolic as its main website, WeChat is the most clutter-free major social network in China right now, and it shows in the cleanness of its app. This is my WeChat Moments section right now: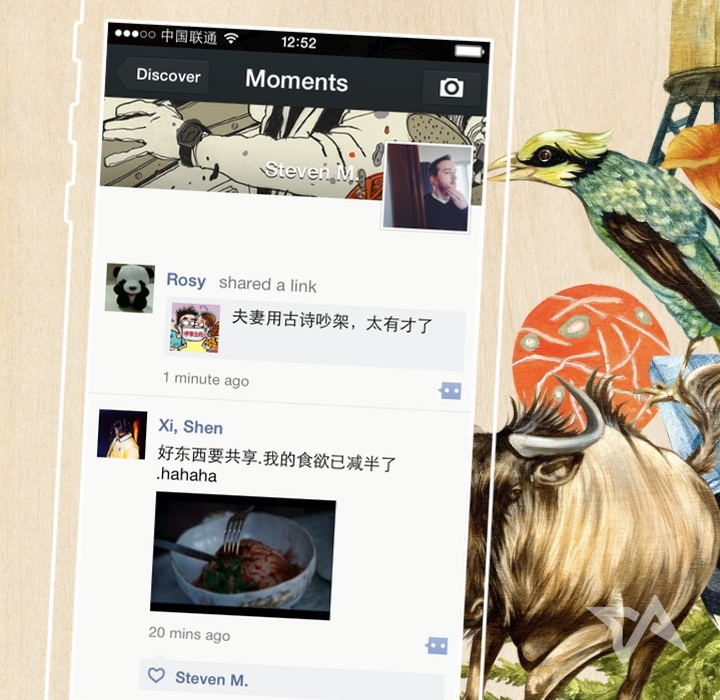 Is Weibo losing it?
So, are Weibo's numbers down? Is the social network past its prime? The official figures from Sina suggest not, and it's still seeing growth since it's the largest microblogging service in the nation. The first minute of 2014 brought with it a surge of posts on Sina Weibo: a whopping 808,298 posts surpassed last year's record of 729,521.
Sina CEO Charles Chao has admitted that the company had seen a dip in the amount of time that users are spending on Weibo, but he concluded that the reduction was "inevitable", and maintained that Weibo was more established than WeChat.
It was once thought that WeChat was too private to threaten or replace Sina Weibo. But it turns out that being a bit more private could be a good thing. As The Economist's Gady Epstein points out, some people are turning to the messaging app to discuss things more freely, where the content won't be posted to the open web, where it can't be indexed by any search engines, and where the censors can't touch it. Sina Weibo's explicit publicness requires an army of bots and humans to censor and eradicate posts that contravene what China's authorities think people shouldn't be talking about. Even for those not discussing edgy topics, WeChat can feel like a safer place to share links and post photos of your dinner or your baby's new haircut.
So far, Sina Weibo's official numbers are on its side. But Sina's next earnings report for Q4 and full-year 2013 could yield some bad news. Whenever I'm on the subway I like to be a bit of a flaneur electronique and look at what services people are using on their phones. In the past year I'm seeing fewer people browsing Sina Weibo. More and more I'm seeing people tapping away at WeChat messages, leaning in to their phones to whisper WeChat voice messages, or scouring through WeChat Moments to see what their buddies are doing and what they're sharing. And there are no ugly ads in sight.
(Editing by Paul Bischoff)