China's online sales of clothing were worth $50 billion in 2012, but only 41 percent of luxury fashion brands have any e-commerce offerings of their own. Furthermore, there's an overall lack of commitment and direct involvement with a mere seven global couture brands selling directly to Chinese consumers from their own sites. That's the stark summary presented in the new L2 Digital IQ Index: Fashion Supplement.
Digging deeper into the report, it shows some interesting e-commerce trends in China, as well as other ways in which luxury fashion brands are failing to reach out to Chinese e-shoppers.
The most interesting trend is a shift away from consumer-to-consumer shopping when it comes to clothing. In 2011, 80 percent of China's fashion sales came from amateur shopkeepers on Taobao, China's biggest C2C site. But, in 2012, there's a clear leap towards more official sources, such as brands' virtual storefronts on sites like Tmall, or from flash sales sites like VIPshop or GlamourSales: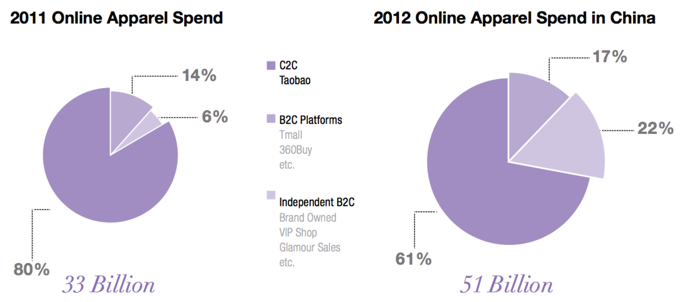 Setting up e-shop
When it comes to setting up shop for Chinese netizens, a standalone e-commerce site undoubtedly allows more brand control, which is especially important for luxury brands who want to charge insane prices for their fashionable baubles. As mentioned above, only seven top luxury brands have done so, with Burberry, Coach, and, as we saw recently, Hugo Boss being among these. 11 percent of the brands use the Yoox platform to more easily create a Chinese e-store, while many others opt to ship from overseas from their global websites – that's despite the complications in adding sales tax and unreliable shipping times: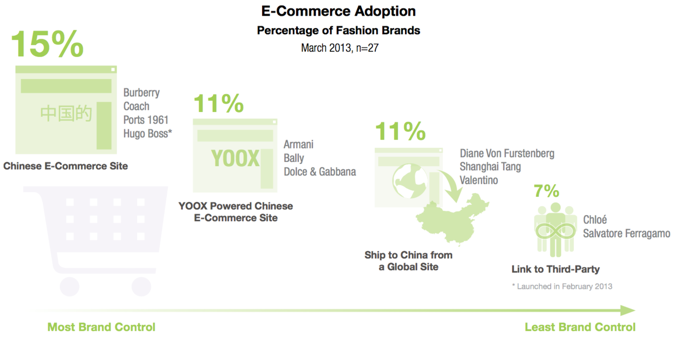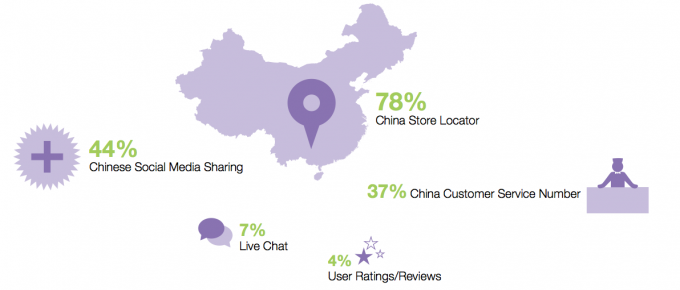 Social marketing mavens
So which fashion brands do the best social marketing in China? It's an immensely important aspect of doing business in China – especially when your target customers are wealthy, middle-class urbanites who get much of their information from social media. The L2 report reckons that only four brands are doing an "exceptional" job with their digital presences in China – Burberry, Louis, Vuitton, Chanel, and Coach. That leaves, after a few other companies doing a mediocre social marketing job, a huge 67 percent of fashion brands with a "feeble" online persona. The weak ones include the likes of Calvin Klein, Hermes, Ralph Lauren, and the homegrown Shanghai Tang brand. Here's why the top brands shine: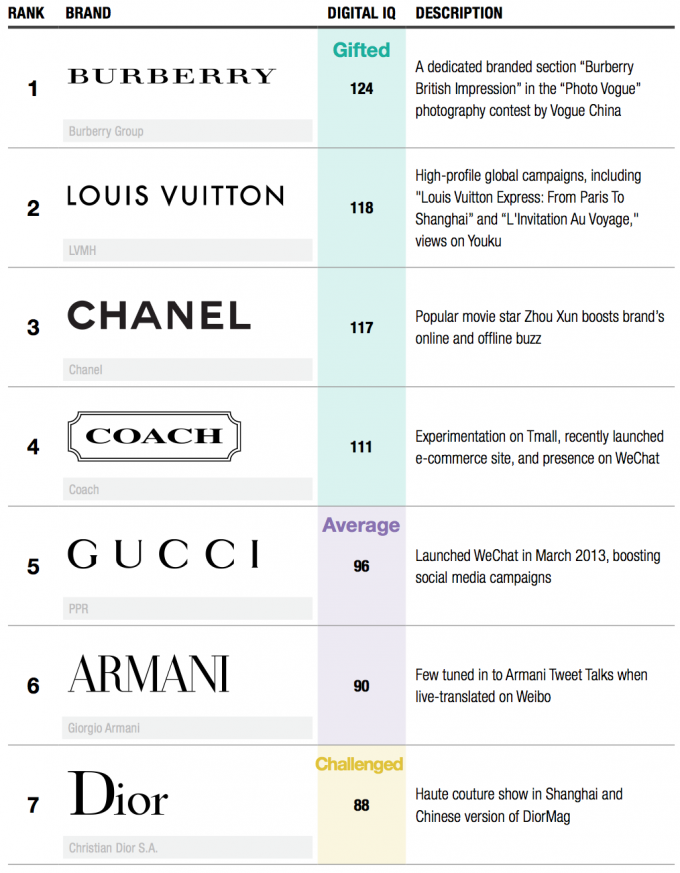 Sina Weibo is the most important social platform in China, and 85 percent of couture fashion houses have official brand pages on Weibo. An official video channel on Youku is the next most prevalent. It's interesting to note that China's other Twitter-like service, Tencent Weibo, is home to none of these luxury luminaries – most likely because its social user-base is made up mostly of folks in poorer cities and rural areas (click to enlarge):
To see the full Digital IQ rankings and more of the report, you can find it here on the L2 homepage.