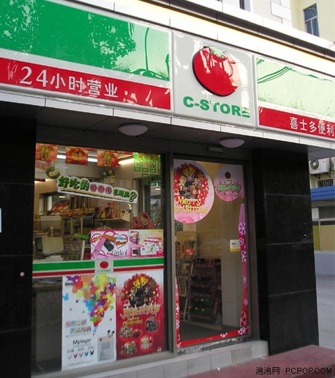 Although Chinese consumers are hot for the nation's e-commerce sites – with one in seven urbanites shopping online each month – it can be a pain actually picking up your parcels. When the courier companies are working, you're at the office. And although the courier companies will deliver stuff to your office, you'll then have to carry it all the way home. And so two of China's top online malls for brands, Alibaba's Tmall, and Tencent's QQ Buy, are tapping some convenience store chains to allow package pick-ups.
The Tmall tie-up launches today and initially covers just nine brick-and-mortar retail chains across five cities: Shanghai, Beijing, Jiaxing, Hangzhou, and Wuhan. But that amounts to 580 individual stores (like C-Store, pictured) as potential collection points. It'll allow city dwellers to collect their online purchases at their convenience, 24 hours a day. The ideal picture is that your neighborhood store will support the scheme, so you can pick up your package at the same time you stock up on milk.
The scheme will soon be expanded to southern China's Guangdong province so that there'll be a total of 1,300 supporting stores across five provinces by next month – just in time for China's hottest online sales day on 'singles day' – November 11th.
Tencent's (HKG:0700) QQ Buy, a similar online mall to Tmall, started the same thing last month – but only in Hong Kong. It was a way for China's biggest web company to take its online shopping platform into a new market, and a range of retail partnerships in Hong Kong mean that 1,200 stores are covered in just that once city.
[Source: Sohu IT – article in Chinese]