New market share stats for China's fragmented daily deals market in 2012 Q2 in China show the strongest sites consolidating their leads even further. Now, the top 20 group buy sites account for 97.1 percent of the market, leaving thousands of smaller rivals fighting for the scraps – or dying off in great numbers.
The stats once again come courtesy of Shanghai-based Dataotuan, whose new report has some other alarming figures. For example, the number one deals site in China is Taobao Juahuasuan (run by e-commerce giant Alibaba); it sells 57 percent of all product-based deals (as opposed to, say, dining deals) in the country, more than all of its rivals combined: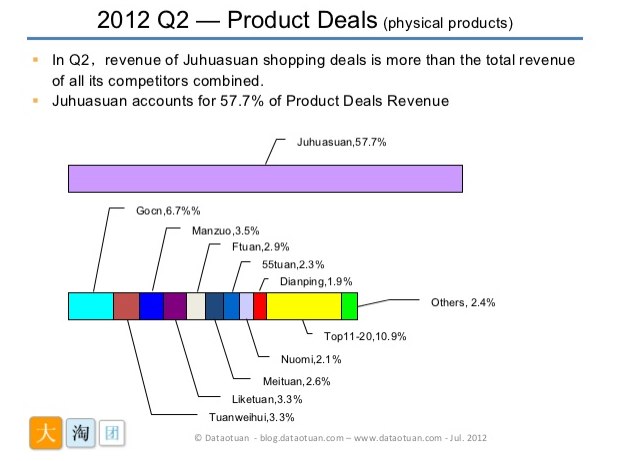 Taobao Juahuasuan hasn't always been included in such reports in the past as it's also an aggregator of deals, which complicates the picture somewhat. Nonetheless, if included it clearly becomes the largest such site in China with 21.5 percent market share. Meituan remains the most successful of the startup sites that came out of nowhere after deciding to emulate Groupon's model. And what of the newly-merged Groupon (NASDAQ:GRPN) China site, Gaopeng.com? It still lingers down in tenth place with a gradually shrinking market share: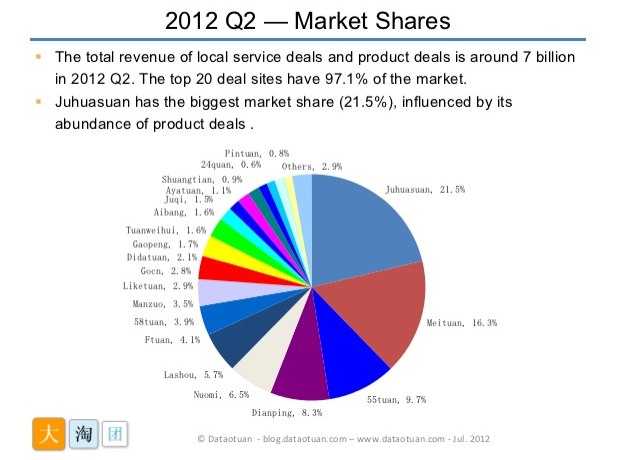 But if we look at Meituan's average sold deal price, it's the lowest among the leaders, with its customers paying a mere 113 RMB (US$17.87) per deal, way below the average payment per transaction in the country. The two strongest in this respect are Dianping and Juhuasuan, on which its users spend over 200 RMB ($31.65) per deal: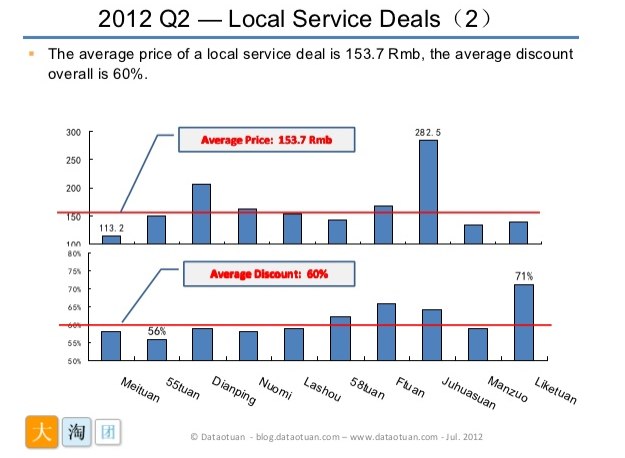 Head over to the link below to see the 23-page slideshow of analytics in full.
[Source: Dataotuan blog]