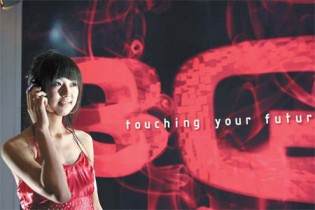 As February prepares to give up the ghost to March, China's big telecoms are reporting their final user numbers for January. And, as you would expect, 3G user subscriptions continue to climb across the board. In total, China gained more than 13 million new 3G subscribers. But here's something a bit surprising: more than half of them signed up for China Mobile.
China Mobile reports that it gained 7.05 million new 3G subscribers in January, pushing its total 3G user count to nearly 95 million. China Unicom picked up 3.67 million new 3G subscribers, bringing its total 3G users above 80 million. China Telecom just barely broke the 3 million mark with its new 3G users, which puts its latest 3G user count at just above 72 million.
That's a lot of numbers, so here's a chart with the telecoms' total mobile subscriber numbers included for scale (yellow).
So, while China's 3G industry is growing fast (keep in mind the red bar in the graph above represents just one month of growth), there's still a long way to go. China still has fewer than 250 million 3G users, out of a total of well over one billion mobile subscribers.
(Source: Sina Tech, Sina Tech, and Sina Tech; image via China Daily)