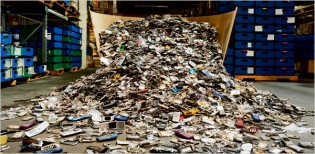 If you needed any more proof that almost everything everywhere is made in China, China's Ministry of Industry and Information Technology (MIIT) just released some statistics that will help you out: in 2012, China produced more than 1.18 billion mobile phones.That means that Chinese-made phones accounted for more than half of all the mobile phones sold worldwide in 2012.
According to MIIT, the sale of mobiles and other electronics manufactured in China brought in more than 8.5 trillion RMB ($1.3 trillion) for the domestic electronics manufacturing industry. And in addition to all those mobile phones, China also produced 350 million computers, 130 million TVs, and more than 82 billion integrated circuits.
Although the manufacturing of other products like textiles may be slowly moving to Southeast Asia, it's clear that when it comes to making electronics, the world is still looking to China. All of the 2012 numbers represent growth of at least 4 percent compared to 2011 (computers and circuits grew much faster), and I'd hazard to guess that in 2013 all of those numbers will be higher still.
(via Sina Tech, image source)