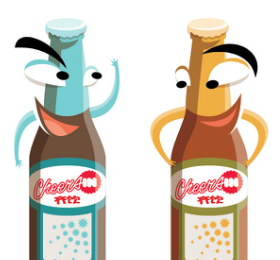 Undoubtedly one of humanity's greatest ancient achievements was inventing beer. Though humankind then massively messed up by coming up with religion and novel ways of murdering people, beer thankfully evolved into many new forms and became a global phenomenon. Fast forward to the present moment, and the startup Cheers In site will deliver some of the world's most unique beers to the doorsteps of Shanghai residents. The startup tells us that it has wrapped up seed funding that it's announcing today, and is planning to expand around China as well.
The Cheers In funding amounts to US$230,000 from Kima Ventures, the French investment firm run by web businessmen Xavier Niel and Jeremie Berrebi. Some other unnamed angel investors also took part.
The store is called Qi Yin in Chinese, meaning "drink together". It aims to bring China's wine connoisseurs around to the idea of appreciating luxury beers from around the world.
Cheers In's co-founder and "idea brewer" is Grégoire Prouvost, who explains that the B2C e-commerce beer store started in Shanghai in 2011, and also has three physical stores in the city. The next step, with some aid from the funding, will be to expand across China, first by opening up deliveries from the online store to the city of Hangzhou on April 13th. Then Cheer In will do the same in some other major, 'first tier' cities, such as Beijing and Guangzhou.
Beer me!
Being so focused on Shanghai has its benefit for customers, says Grégoire. One of the selling points of the site is that it can deliver within the city in one to three hours, and even has a "cold option" so that your chosen specialist beers will arrive chilled at your home.
The site has 200 kinds of beers from 30 countries, with an emphasis on little-known and handcrafted beers. Some of the brewery brands on the site I've seen for sale in specialist stores in China, like Chimay Blue and the Brooklyn brand, while others on Cheers In are even more unique and totally new to me. I particularly like the sound of the Mongozo Coconut beer that's on the site for RMB 25 ($4). Grégoire says that the startup will either import directly or buy locally, and aims to introduce a new taste each month to its Chinese customers, along with educational events for tasting the products.
We've seen quite a few other alcohol e-commerce startups take this mixed approach in China – some offline stores plus consumer education-oriented events – though they tend to be wines and spirits e-tailers like WineNice. In terms of beer-loving rivals, Cheer In will be up against Kuai Pijiu as well as random beer vendors on online platforms like Tmall.
Cheers In insists that doing B2C e-commerce – which involves buying lots of inventory and warehousing it – is not too challenging for a startup. Grégoire says that the company works with logistics partners and has its own team of delivery guys. Plus, its brick-and-mortar stores also serve as mini warehouses. Its gradual, city-oriented approach will be replicated in a few new cities this year, and some more physical stores will be opened as well.
Chinese consumers are expected to buy 13 billion RMB – a full $2 billion – in wines, beers, and spirits on the country's specialist B2C alcohol e-tailers by 2014.