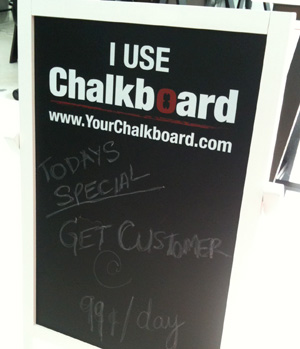 For some reason, being seen going to the U.S is a really cool thing for start-up founders here in Asia. Some founders 'go west' for stupid reasons — just for the sake of saying "I'm based in Silicon Valley," it seems.
But I don't think Chalkboard, the location-based ad network, is one of those cases. Having spoken to their founders on a personal level – Saumil Nanvati and Bernard Leong – these folks are highly intelligent people who know their stuff and make good decisions.
They started acquiring users and clients in Singapore, Malaysia (they landed a deal with HTC Malaysia), and Indonesia (in the works now) before moving to try to capture the Western market. Chalkboard's new U.S office is located in San Francisco.
As we understand it, Saumil (the CEO) will be based in the U.S while Bernard (the CTO) will stay put in Singapore.
Founded just over a year ago, Chalkboard has more than 4,300 businesses and 4.8 million active monthly users. We are happy to test the service out as well by placing their widget on our sidebar. It's fun to see what promotions are available around my neighborhood from time to time and we hope you're enjoying it too.
Chalkboard is funded by Neoteny Labs where Joi Ito is a general partner at the venture capital firm. We've been told that the location-based start-up is planning for another round of funding, though nothing has been disclosed yet. Stay tuned for more updates.