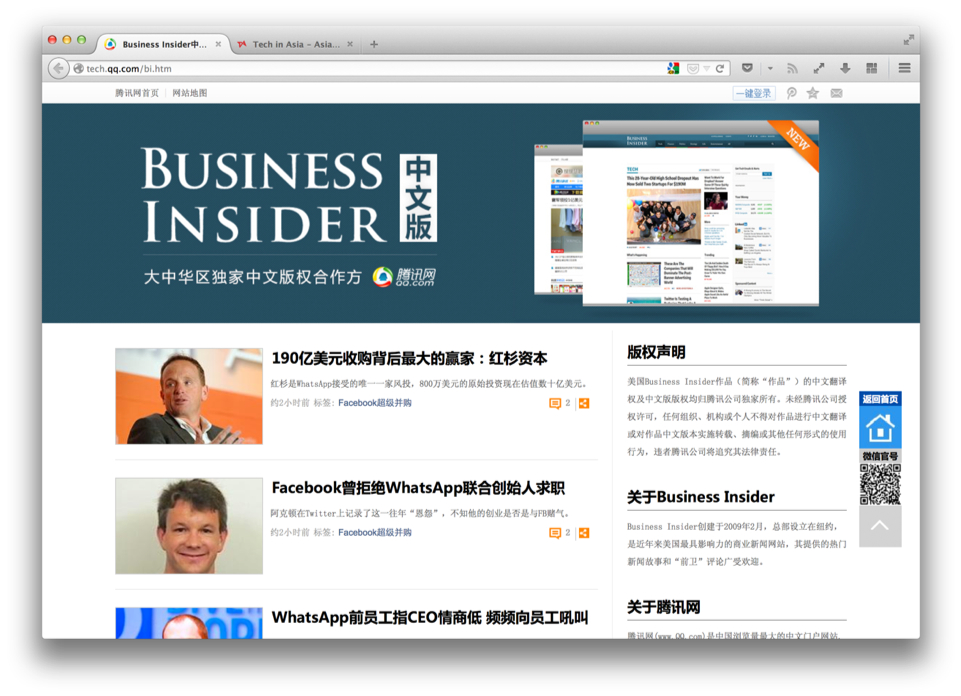 Business Insider, the US-based news site, is heading to China. BI founder Henry Blodget has announced a partnership with Chinese web titan Tencent (HKG:0700) – the makers of WeChat – whereby selected stories will be translated into Chinese. The new Business Insider Chinese portal is here.
The deal might help BI in not losing so much money even after over $30 million in venture capital funding, but I'd say that it's more significant in what it means for Chinese new media.
Chinese web content is still struggling to evolve from its copy-paste origins, with no links or attribution. It's so prevalent that, from what local journos and bloggers have told me, Chinese web sites accept it as part of the landscape. When it comes to sourcing from English content, it's a case of translate and publish without links or attribution. Last month, TechCrunch China called out one site, 36Kr, for publishing lightly modified versions of TechCrunch content. A few days later, TechCrunch China pleaded with Chinese media to stop churning and translating content from foreign sources such as English-language TechCrunch, The Verge, WSJ blogs, and Medium. It happens to us as well.
However, we'd argue that startup news sites like 36Kr – and other good local tech blogs like iFanr – are part of the solution, not the problem. Indeed, it's often the news sections of Chinese web portals – such as Tencent's and Sina's – that are the worst at unattributed churnalism or even total copy-paste hack-jobs.
The fact that Tencent is presumably paying up for exclusive access to BI content shows that things are progressing.
(Editing by Josh Horwitz)