You seldom hear of banks or financial establishments involving themselves directly in technology trends or releases, at least not directly, and even more so in the Philippines. Yes, we've had electronic banking for a while now, and banks are always touting their latest innovations in online shopping and connectivity. But an actual hardware product innovation developed, produced and released by the bank itself? A bit rare that.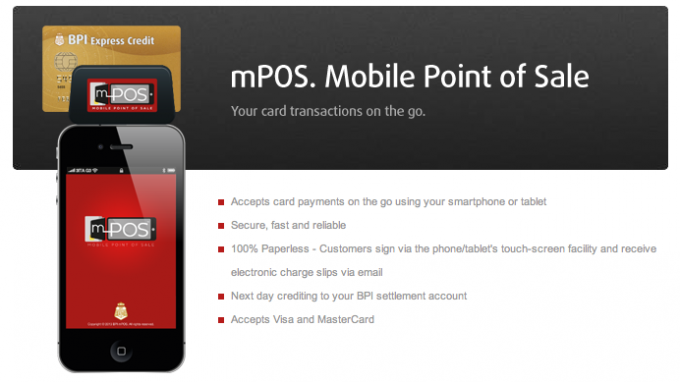 So it was a bit of a breath of fresh air when the Bank of the Philippine Islands (BPI) announced the development of what they hope will give them an edge in the burgeoning e-commerce and mobile purchasing field, the BPI mPOS, or Mobile Point of Sale.
Simply put, the mPOS is an attachment device for your smartphone or wi-fi enabled tablet, which will transform it into a mobile point-of-sale system. Currently available for iOS and Android devices, with a Blackberry version in the works, the mPOS connects via the headphone jack, allowing users to accept credit card payments, accepting both Visa and MasterCard. The device is basically a credit card scanner, and through a downloadable app, scanned transaction information is transmitted via wi-fi or mobile cellular connections to BPI's central server.
One point of interest, though not necessarily good or bad, is that the mPOS device does not function on jailbroken devices, so it's a no-go for users with jailbroken iPhones. No specific mention was made if this applied to rooted Android devices as well.
Officially unveiled for testing last April 28th, BPI representatives have stated that, though already highly successful in other countries like the United States with Square, this is first in the Philippines, a pioneering step in BPI's efforts to promote e-commerce in the country.
Currently in a six month test phase, BPI chose Singapore-based Swift systems integrator for the device, emphasizing the determining and solution of such issues that future mPOS merchants might encounter. These range from issues such as cellular signal quality and strength, as well as the wireless capabilities of the mPOS device itself. After all, mobility is good and all out in the field, but what about inside buildings and other establishments? As is, the device is being tested by over 600 business and establishment owners, on a myriad selection of phones.
Another major concern, perhaps the most crucial of all, is security, and rightfully so. Credit card security and credit card fraud are of paramount concern in this day and age, and any successful online commerce endeavor must be up to this challenge if it is to succeed. In this regard, BPI has stated that the mobile app will require users to provide their signature using the phone or tablets touch-screen functionality. All transactions are credited to your BPI settlement account the very next day. The mPOS is also 100 percent paperless, so no receipts will be issued immediately, and will instead be emailed to the customer once the purchase is confirmed. BPI has also assured users that privacy is key, and that no credit card or user information will be saved within the device. This makes the mPOS compliant with both the Payment Card Industry Data Security Standard (PCIDSS) and Payment Application Data Security Standard (PA-DSS) systems.
Source: newsbytes.ph