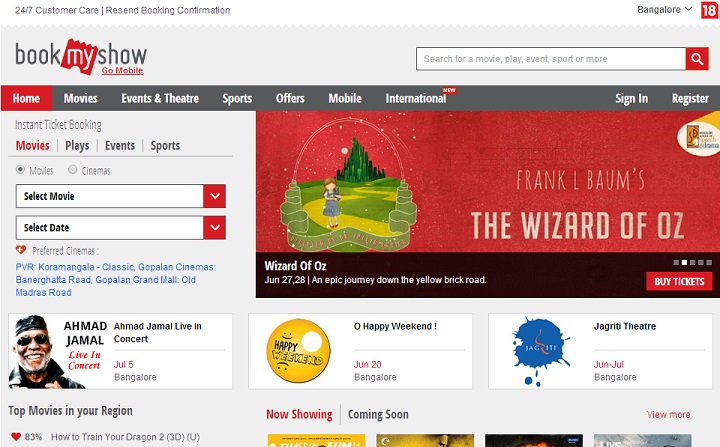 India's largest entertainment ticketing portal just crossed the US$100 million barrier in valuation, The Economic Times reports today. Bigtree Entertainment, which owns BookMyShow, raised US$25 million from investors led by SAIF Partners, who valued the site at Rs 1000 crore (US$166 million). This is a three-fold increase in valuation from the time it last raised funds two years ago. Existing investors Accel Partners and media company Network18 also contributed.
After starting out with only movie ticketing, BookMyShow quickly expanded to cover sporting events and music concerts. Becoming the ticketing portal for the Indian Premier League (IPL) was a coup in a country where cricket is a religion. It also competed against global players in this space to bag the ticketing rights for cricket's Twenty20 World Cup this year. The challenge was to ensure the website would not crash during huge surges in traffic, which BookMyShow managed to do – and that enhanced its reputation. Founder and CEO Ashish Hemrajani explained to YourStory:
"BookMyShow has a robust system built over many years of a deep understanding of managing user expectations. The nature of the business is around sudden peak demand and we are extremely mindful of that."
A mobile app launched last year and that has also helped BookMyShow widen its net, boosting sales in smaller towns. The new funds will be used to further drive mobile ticket sales. "We are confident the team will continue the focus on innovation, customer service and technology," SAIF Partners managing director Deepak Gaur says in a statement after the funding.
See: The Rise of Mobile Apps in India (INFOGRAPHIC)
BookMyShow's founder Ashish Hemrajani says SAIF Partners' "experience of having helped companies like
MakeMyTrip
and
JustDial
go public will be of immense value to us", suggesting that an
IPO
is not far away.
Hemrajani and two friends – Parikshit Dar and Rajesh Balpande – came up with the idea of Bigtree during a holiday in South Africa way back in 1999, but the dotcom bust set them back. They pivoted to the customer relation management and call centre business to ride it out, before Network18 came in with big bucks in 2007 when BookMyShow was launched. An intern developer at the company came up with the name after an internal contest. The subsequent boom in the Indian consumer internet market has taken it to the big league.
(Source: The Economic Times)