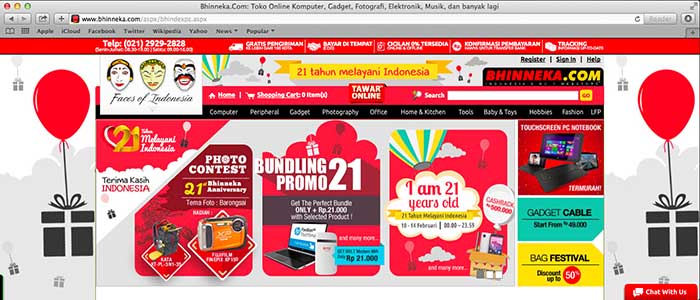 To anyone who has ever shopped online for an gadget in Indonesia, Bhinneka is probably a familiar name. This year marks the 21st birthday of the retail and e-store chain, and in honor of that achievement, the team took us through a brief history and shared some thoughts and insight into what's to come.
500,000 members
With the rise in popularity of e-commerce over the past couple of years, it's no surprise that Bhinneka's numbers are quite strong. The website receives 165,000 unique visitors daily, a significant increase from 148,000 last June, as well as 21 million page-views per month in 2013. They company also revealed it reached the 500,000 registered members milestone and earned 600 billion rupiah (US$49.8 million) in revenue last year, 70 percent of which came from online sales.
It's not only the online business that has seen growth – the brick-and-mortar business is growing too. In the past year, it expanded to cover 36 product categories that vary all the way from computers to perfume. In addition to that, Bhinneka revealed it now has 532 full-time workers, compared to just 12 when it started out in 1999, along with six physical stores in Jakarta.
New marketplace
When it comes to plans for the future, the team says the "Bursa Bhinneka" forum will get a revamped interface. Along with that, the firm plans to upgrade the backend e-commerce system, moving it to what they call a "third-generation e-commerce model," which should bring along improvements in the stability and security of the platform.
In an effort to embrace new partners, the e-store will be launching the Bhinneka Marketplace sometime later this year. Hendrik Tio, the CEO of Bhinneka, believes that the marketplace will make it easier to partner with other vendors and small- to medium-sized businesses.
One of the biggest complaints the company received last year was that delivery wasn't as fast as consumers had hoped. Bhinneka aims to rectify that when it begins offering same-day delivery later this year, beginning with Jakarta and maybe rolling it out to other cities depending on where there are distribution centers. The planned distribution centers will also offer a large portion of the online catalogue for in-store purchase, catering to consumers who prefer to shop in person.
(Editing by Paul Bischoff and Steven Millward)