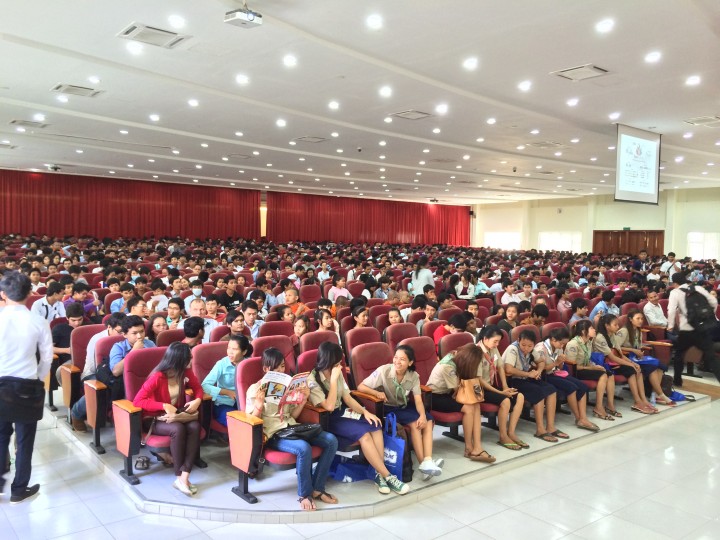 Over the weekend, the organizers of Barcamp Cambodia welcomed over 3,000 techies, students, and professionals at the Institute of Technology Cambodia. It was by far the largest tech event Cambodia has ever seen and an indication of Cambodia's bright tech future.
If you are unfamiliar with the concept of a Barcamp, it differs from other conferences or events in that there is no set agenda and anyone can present. Most events have organizers that decide the theme and speakers, with a Barcamp, it is the audience and participants that can be the speakers and choose the speakers. In the case of Barcamp Phnom Penh, anybody could submit topics and the audience would vote and attend the talks they wanted most.
Although Cambodia's population is only 15 million and there are 2.7 million internet users. Just last year, the internet penetration was less than a million and Facebook penetration didn't even break 500,000. The budding Southeast Asian nation has seen big changes in the past couple of years.
Unlike neighboring Vietnam and Thailand, which have populations of over 60 million people, the Barcamps held in those countries have never seen such numbers. Last year, Barcamp organizers in Bangkok had fewer than 100 attendees (the organizers intentionally downsized) and BarcampSaigon saw about 1,600. In contrast, Barcamp Phnom Penh has consistently had more than 1,000 attendees for the last three years.
Barcamp Phnom Penh is only one of the five Barcamps organized in Cambodia this year. As Chantra Be, the main organizer of Barcamp Cambodia explains, they have had Barcamps in Siem Reap (Barcamp Angkor Wat), Battambang, and other provincial cities throughout the country. The last Barcamp of this year will be held on December 7 and 8 at Sihanoukville. It's a Barcamp on the beach.
What this tells us about Cambodia's growing tech scene
Although Cambodia's internet is not yet as sophisticated nor large as neighboring Thailand and Vietnam, there is still clearly a fervor for technology. As you can see in the photo below, these are just a few of the topics that Cambodian and foreign speakers covered, which spanned everything from how to run a Facebook page to women's visibility online.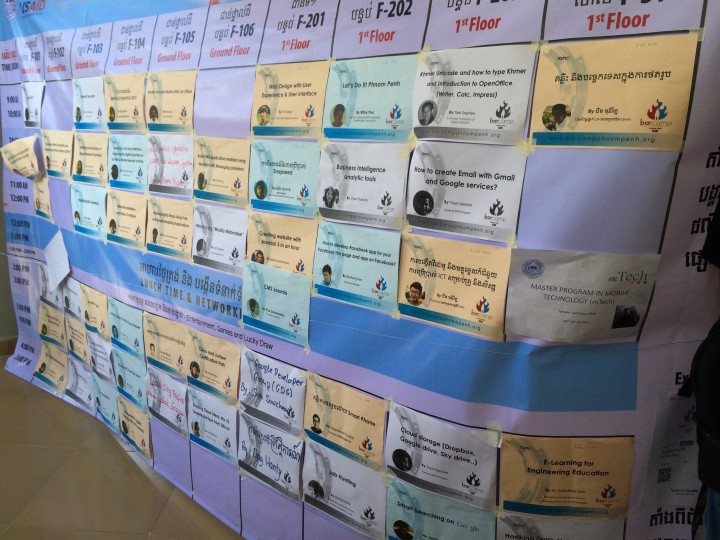 The community in Cambodia is also quite small, which leads to a tight-knit and close leadership. At this Barcamp, guests not only included the organizers of Startup Weekend Cambodia, but also developers from local outsourcing companies and the sponsors included Cambodia's local telcos. This means building connections, networks, and organizations around technology has been relatively easy because of access.
Much of the event was bankrolled and sponsored by a number of big names including the USAID, which has given the Barcamp Cambodia team a sizeable budget to organize Barcamps in Cambodia for the years to come.
Despite the numbers in attendance, Barcamp Phnom Penh is still not the biggest Barcamp in the world. Barcamp Yangon still has the record for the biggest Barcamp with over 6,400 people earlier this year. No doubt, this is because in developing countries in Southeast Asia, there is a void of tech events. In Silicon Valley, where events like All Things D and TechCrunch Disrupt are aplenty, Barcamps are small and humble. In Southeast Asia, where such events are rare or few and far between, Barcamps remain the dominant venue for techies to get together and reflect on their scene.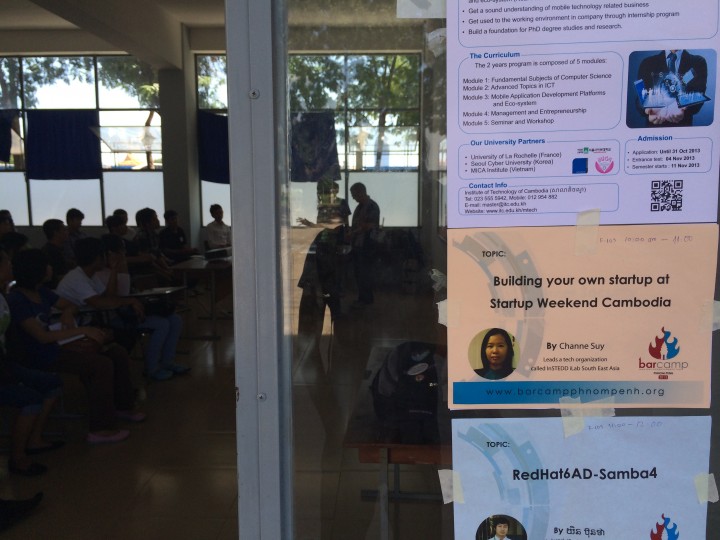 Full Disclosure: I am one of the organizers of BarcampSaigon.
(Editing by Steven Millward)