Myanmar has made some stunning changes in the past two years. And this is the backdrop to BarcampYangon's explosive growth into one of Asia's largest tech conferences and by far the biggest Barcamp in the world. At over 6,400 participants on January 19 and 20 this year, BarcampYangon not only dwarfs every barcamp in the region but even exceeds last year's number by over one thousand attendees. Myanmar is now the envy of every barcamper in Asia.
Barcamps are free-to-attend locally organized "unconferences" where participants are allowed to present about anything they want. Speakers and presenters can be anyone. Organizers are only required to take care of promotion, logistics, and infrastructure for the event while attendees proactively present and choose their own content.
I spoke to Nang Nyi, one of the 32 main organizers of BarcampYangon who gave me the growth numbers starting with the first one in 2010.
| year | participants |
| --- | --- |
| 2010 | 1,700 |
| 2011 | 2,700 |
| 2012 | 4,000 |
| 2013 | 6,400 |

In 2012, BarcampYangon was already the biggest barcamp in the world. Even Myanmar's national hero, Aung San Suu Kyi, attended. The Myanmarese government's Ministry of Communication gave full support and provided internet for the whole two days.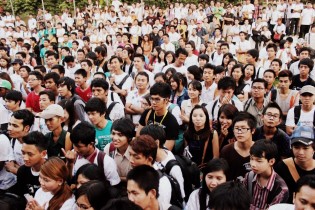 This year, with a 2,400 jump in the numbers, BarcampYangon's biggest partners include Dell and the local AGB Bank. Nang broke down the key numbers for us:
This year, just as every year, we had about 100 volunteers managing all the participants. We had 13 rooms for speakers with 59 topics presented on the first day and 70 topics presented on the second day. The most popular topics this year were Unicode and Ubuntu.
The most popular topics, Unicode and Ubuntu, indicate a strong interest in bringing the Burmese language into software and a penchant for open source software. IT institutions are very supportive of such developments as Nang explains:
BarcampYangon's scale and size has been supported by the Myanmar ICT (MICT) park, a compound and training center for IT companies similar to the IT Zone in Yangon, since the start. MICT houses the Myanmar Computer Professional Association (MCPA) whose executive members are also in the Barcamp organizing team.
As of late 2012, internet penetration in Myanmar has floated just above two percent (roughly 1.2 million), with less than one million people on Facebook. This means the online community is particularly intimate and close-knit. There are also few tech-related events in Myanmar, so BarcampYangon is one of its kind in the country.
Finally, I had to ask Nang what motivated her team to organize Barcamp? She answers:
Well, the average age of the participants is 20 to 35 years old. It is a young crowd. I want to open the eyes of the Myanmar youth to give them the habit of sharing. I also want to improve their soft skills like presentation, networking, and social skills.
I don't know about you, but I'm definitely going next year. For those of you who might want to attend but don't speak Burmese, don't worry, the organizing team even has a translation team for English speakers.
You can support BarcampYangon by liking it on Facebook here.