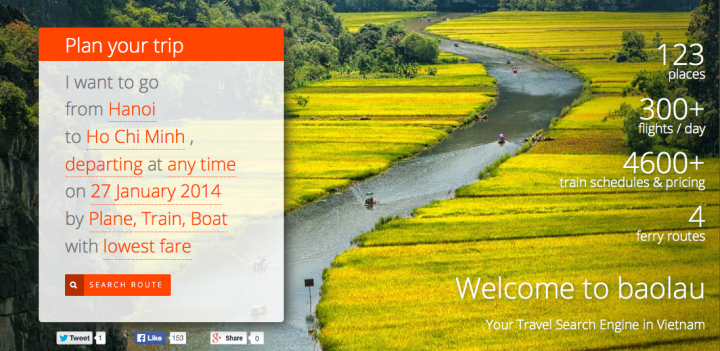 Travel is an increasingly important frontier for Asia. In 2013 it surpassed Europe as the world's largest regional market, pulling in over $326 billion in gross travel bookings. At the same time, Asia's tourism industries are still nascent. Since many of the countries in the region are still developing, it's not so easy for travelers to get around. It's especially rough in India, Southeast Asia, and China.
In Vietnam, it's the same. If you're a foreigner, finding a train or bus to the next Vietnamese travel spot takes some fancy Googling, a jump over to TripAdvisor, and asking around on random forums. For Vietnamese folk, you're usually driving over to the local booking agent, and asking your family or friends for recommendations. This is where Baolau.vn comes in (the name means "how long?" in Vietnamese).
According to founder Alberto Moreno, one of the two Spanish co-founders living in Vietnam, it's a "multimodal travel search engine". In other words, the site allows travelers to search for multiple routes and methods to get to their destination.
With Baolau.vn, all I have to do is click through seven parameters to get a search going. Basically the seven are: origin, destination, arrival or leaving time and day, type of transport, and price. The site then crawls its system, with booking data obtained from travel vendors, and produces the best results. It's a bit like Kayak and Hipmunk. All in all, Baolau.vn covers domestic flights, trains, and ferries in Vietnam. According to Moreno, there's more to come:
We obtained train schedules and fares in collaboration with Vietnam Railways, and our users can book tickets directly from Vietnam Airlines, JetStar and VietJet Air, so we always deal with the official price. In the future, we will include inter-city buses as well.
This will put Baolau.vn in competition with VeXeRe, the promising Vietnamese bus ticketing site, in the future. But it seems Baolau.vn will not approach the problem in the same way as the Vietnamese team.
"We are aware that buses play a major role in inter-city transportation in Vietnam and we want to include them, but we are still considering the best strategy to approach this. There are many private companies operating regional and national bus routes, and we'd need to contact all of them to request the data and confirm whether they are prepared to support online ticket booking," says Moreno.
"Definitely VeXeRe.com has taken the lead and they're the first to tackle this problem, and we think that they have done a great job bringing bus ticket booking a step closer to be as easy as flight booking. We are looking forward to participating in the same game."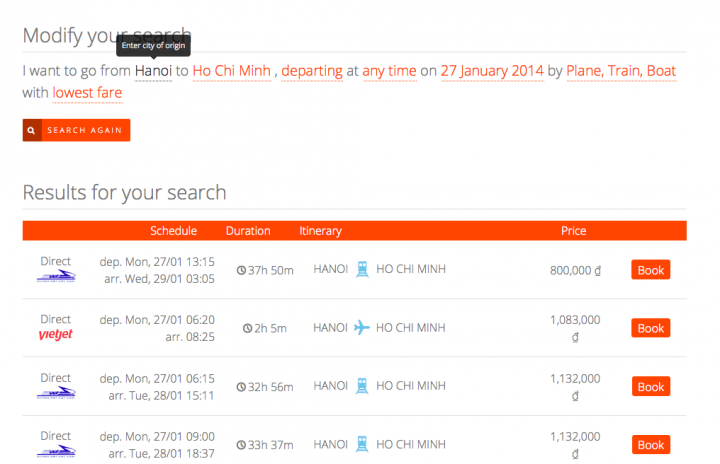 Moreno says that their path to profit is basically online bookings and advertisements through the site in the future. Of course, the team is going to need to get the traffic for that first. The site is pretty sleek and easy to use, so that goal may be within reason.
(Editing by Terence Lee)