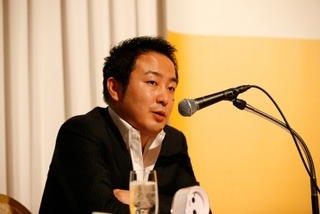 Hiroyuki Watanabe, a well-known venture capitalist in the Japanese start-up community, recently launched his own fund for investing in tech start-ups. It's called B Dash Ventures and is reportedly expected to be worth 2 billion yen by next year.
Mr. Watanabe started his career at an investment arm of Japan's Mitsubishi UFJ Capital in 2007, and he was appointed the investment division manager for a tech-oriented investment company Ngi Group last year.  He frequently lectures and presents at many start-up events and conferences.
NTT Investment Partners, the investment arm of the country's largest telco, announced it would invest in B Dash Ventures, working together to dig out potential tech start-up personnel and services.  NEC Biglobe (Japan's second-largest ISP), GREE (social network and game platform operator), and Septeni (web/mobile advertising and affiliate) also announced they would be partnering with B Dash.
Mr. Watanabe unveiled that he partnered with Tokyo's property company Mori Building, with a number of office buildings and skyscrapers in the heart of the city, working on setting up an incubation facility called B Dash Lab.
---
Japanese Tech Incubators At A Glance
---
In Tokyo, we can no longer count the number of tech incubators and VC firms on one hand. So this is a good opportunity to briefly review them.  Here they are in alphabetical order:
Breakthrough Partners – Co-founded by Koji Morihiro and Yuji Akaba, both of whom are alumni of Techfarm Ventures in Palo Alto.  Recently they held a two-month-long camp for university students to develop their web/smartphone apps and to encourage entrepreneurship.
East Ventures – Co-founded by Mixi's ex-CTO Batara Eto and Kronos Fund Founder Taiga Matsuyama, it focuses on investment in South East Asia. (It is also known for having invested in this blog, Penn-Olson)
Infinity Venture Partners – Co-founded by three venture capitalists including Akio Tanaka, the former head of Adobe's investment division, and Hirofumi Ono, the former managing director of CyberAgent's subsidiary of mobile app development CA Mobile. It's known for having invested in Groupon Japan and successfully sold it out at a high valuation.
Movida Japan – Founded by Taizo Son, a serial entrepreneur and a Korean descendant in Japan.  His older brother is the CEO of Japan's large mobile operator and Internet service company Softbank. Refer to our previous feature for more details on the company.
Net Age – Founded by Kiyoshi Nishikawa, the founder of Ngi Group (mentioned above).  He is a lengendary serial entrepreneur and launched a number tech venture companies in Tokyo's Shibuya region in the late 1990s, which was called BitValley.
Samurai Incubate – Founded by Kentaro Sakakibara who was previously working with Shibuya's e-commerce giant EC-Navi. Nobot, one of their portfolio start-ups, had a very successful exit.  It is now partnering with a large warehouse company and working on setting up an incubation facility for tech start-ups in the waterfront area of Tokyo.