About a month back we attended a community-run eSports con in Singapore which also had a cosplay segment. Having arrived a little late, we hunkered down at the front of the stage to camp for photos.
This demure individual dressed as the Silent Night Sona (or Christmas Sona) from League of Legends then hauled her entire costume, replete with an organ prop, onto the stage. The contest was such that each contestant would perform a short skit to best show off their cosplay, and the Silent Night Sona was no exception.
She moved gracefully to accompanying music until suddenly the beat changed and heavy metal started blasting over the speakers and Silent Night Sona went berserk. After an eye-opening, head-banging performance during which her costume stayed intact, we thought: damn. That was cool.

---
24 year old Sabrina started cosplaying in 2010 when her friends needed more people in their cosplay group. Two years later she met Xen of Xencraft Tech and other friends and decided it was time to up her game. Through them, she learned to craft and make costumes, and things progressed from there.
Sabrina had thought about cosplaying the Silent Night Sona from League of Legends since two Christmases ago, when all her friends had Christmas League of Legends cosplays of their own.
She had decided to cosplay as the character Sona as "[Sona] plays music, and she's pretty, and this costume is comfortably covered," going on to point out how costumes for female game characters can sometimes be a bit too skimpy. The Silent Night skin had also been a big draw, as a "Christmas costume is a big factor" for her.
Sabrina's elaborate outfit took about a month to make, is "fully self-made", and one of her more tedious projects.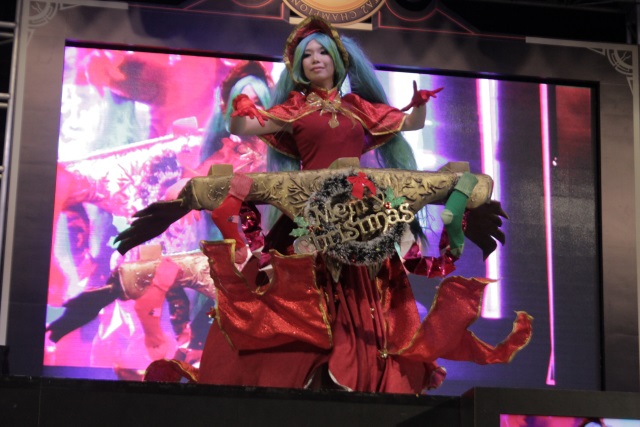 "It took me a while to find the various fabrics for the costume, [the] flowy and gradient skirt, embossed patterned outer fabrics, and I [had to] handsew the wires to the skirts so that it would 'float'," she said.
She also rigged up her wig with wires and made the music instrument prop from scratch with EVA foam. The instrument could light up because of her use of LED strips on its strings. Sabrina used a programmer control for her instrument prop so the colours and speed would change to look as though it was really being played.
"I already had my idea of the performance while I was working on the costume, so I worked around it," she said, of her very un-Christmas-Sona-like performance on stage.
The wires of the electrical programmer were modified to fit the prop, and the lights could be turned on and off via a small hidden switch. The battery pack was screwed under the instrument for aesthetic reasons.
The best thing about the cosplay, though? Sabrina could not actually put her costume on in the confines of her house. There was no space, she said. And so the first time she actually put on the finished cosplay was at the event venue. "That feeling of satisfaction!" she said, when she first wore her Silent Night Sona cosplay.
And yes, when given a choice, Sabrina does think League of Legends is "a little cuter and more noob friendly."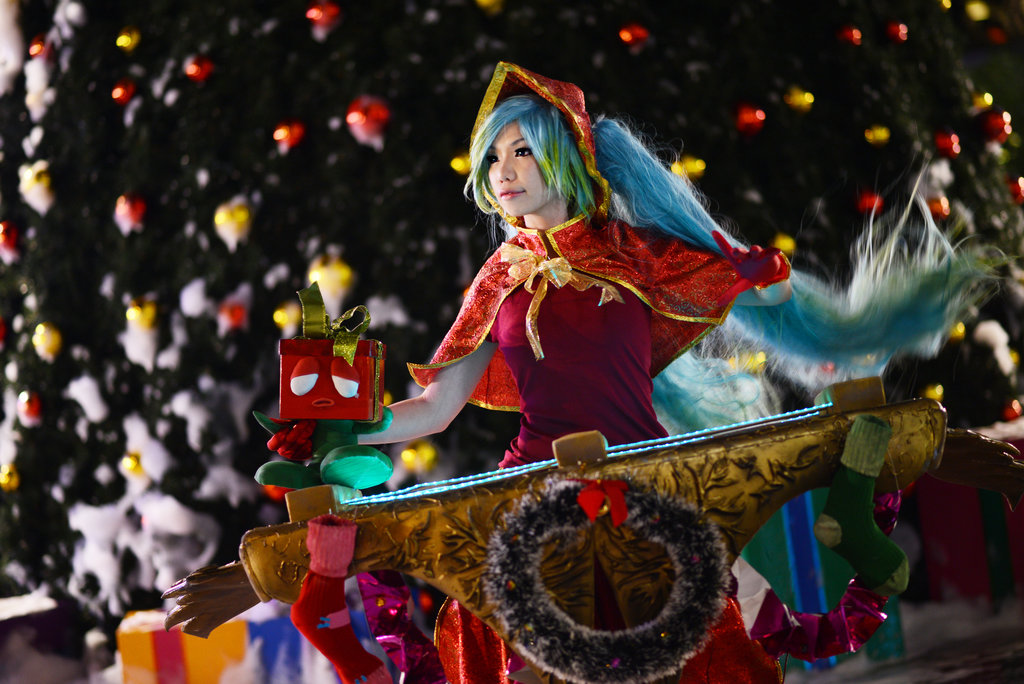 You can check out her cosplay page for more photos.
This has been an Awesome Costumes feature from Games in Asia.
(Photos: Cover and final from Sabrina & Vaxzone)