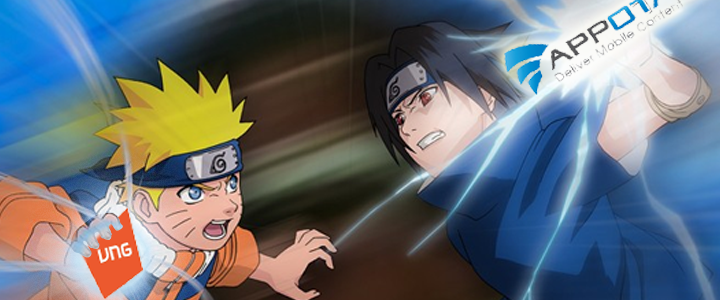 VNG is by far one of Vietnam's most successful and large companies. With $90 million in revenue for 2012, and over one thousand employees and products ranging from games to e-commerce to mobile to social media, it has considerable influence over Vietnam's modern internet culture. Tens of millions of Vietnam's netizens use VNG's products. But at its core, VNG is a gaming distribution company. After all, its original name was VinaGame.
Meanwhile, up in Hanoi, there's a new rising star in the distribution space. Although it comes from humble beginnings – Appota's CEO started out distributing apps in his physical mobile stores – it slowly evolved his business into a mobile content distribution platform. The company now employs over 100 people, and it distributes apps, games, ebooks, and more across channels like Appstore.vn, Gsmvn, Cydia, Facebook, and even gadgets from handset makers like Huawei and Oppo.
Why Zalo is so important
VNG has some major web properties including Zing Mp3, Zing Me, 123.vn (rumored to be shifting strategy), BaoMoi, and more. But the hottest topic for VNG in the past year has been Zalo, its chat app. Last time we checked in with VNG, Zalo has over 7 million users. That's just behind Viber, a company which hasn't spent any money on advertising until the last few months. In the past year, Vietnamese consumers have been barraged with advertisements from KakaoTalk, Line, and Zalo. You can see the advertisements on TV, in elevators, in taxi cabs, on billboards, on mobile games, and more. That's millions of dollars of advertising. Why is VNG, a company that makes most of its money off of web-based games, distributed on its channels to internet cafes across the world, spending so much money on Zalo?
Of course, many will note that Tencent is an investor in VNG. And some Vietnamese journalists have made the speculation that Tencent might even acquire VNG. Tencent is also a gaming company that added chat apps to its product portfolio with WeChat, and to great success at that. VNG appears to be doing the same thing. But frivolous comparisons aside, the bottom line is that VNG is preparing its troops for the next phase of the internet. Vuong Quang Khai, Executive Vice President at VNG, and head of the Zalo project, has reiterated countless times that VNG has identified mobile as the future for Vietnam and Zalo as central to that.
For VNG, Zalo is a a bet on the future and a survival game. As more and more internet users migrate away from web games and into mobile, VNG must bet on mobile to be relevant in the future. With VNG's DNA so intertwined with gaming distribution, it's only natural for Zalo to eventually get into mobile game distribution.
Where Zalo meets Appota
If we view Zalo as the future of VNG's mobile gaming distribution, then it will become a direct competitor to Appota. Appota, which is currently beta testing a sophisticated gaming social network called onClan is eager to take on the mobile gaming market from another direction, social media. In this equation, one is from OTT messaging, and one is from social media.
The question remains – can VNG transition into a mobile first strategy successfully and start distributing content on mobile via Zalo? And can Appota grow its already large base of mobile distribution channels and serve more games up via its social gaming platform? At the same time, can these two companies fend off the many others in the ecosystem?
There's plenty of other players too
Besides Appota and VNG, there's plenty of other fish in the sea. Soha, ME Corp, MC Corp, Wada, and even NCT (an online music distribution company), all have mobile game and content sharing platforms. And they all have a shot at disrupting Appota and VNG, some more than others.
At the same time, we're seeing a massive increase in smartphone penetration in Vietnam. In 2012, three out of every 10 people in Vietnam owned a smartphone. By the end of 2014, the number of smartphone users will likely be around 40 percent. That's potentially 36 million smartphone users. This battle will rage on for years, who will be the winner?
(Editing by Josh Horwitz)