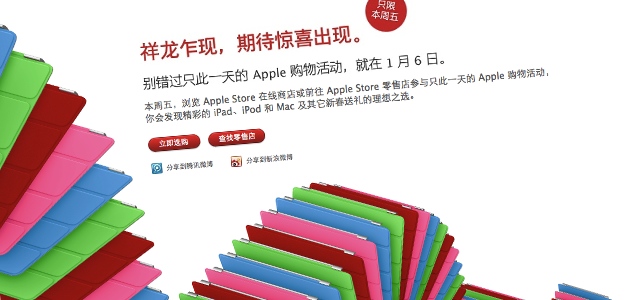 Apple (NASDAQ:AAPL) is apparently keen to celebrate Chinese new year – more popularly known as Spring Festival here – with a "one-day Apple shopping event," which we hope means 'sale,' on Friday, January 6th.
As spotted by the 9to5Mac crew, this is running in the Apple online stores in China, Hong Kong, Taiwan, Singapore, Malaysia, Thailand, and the Philippines. The Chinese online store (which is here), like all those others in the region, is running that promo artwork showing a dragon of colourful iPads with smart covers (pictured above). Yes, this coming lunar new year will be the year of the dragon. The Chinese store also features unique integration with both Sina's (NASDAQ:SINA) and Tencent's (HKG:0700) Weibo so that people can spread the word of the upcoming event.
It's also being dubbed "red Friday" by Apple, but there's no mention of discounts or sales, or how much online shoppers could expect to save. If it's anything like the American tradition of black Friday sales, then there could be some sweet deals which might well run out before the end of the day – so prepare yourself for some virtual elbowing and queue-jumping.
Japan, meanwhile, had its own special day on January 1st 2nd with the traditional 'lucky bag' system of buying a mysterious bagful of goodies for a set price – and Apple is one of the most popular bricks-and-mortar retailers on that day.
If you live in mainland China, Hong Kong, Taiwan, Singapore, Malaysia, Thailand, or the Philippines, check back into the Apple online store for your country on Friday.
[Source: 9to5Mac]