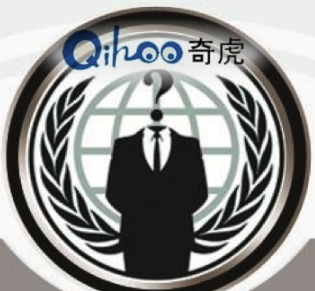 Anonymous Analytics – the research wing of the hacker collective Anonymous – has produced its second-ever report [1] on a Chinese company. This time Qihoo 360 (NYSE:QIHU), the anti-virus vendor and web portal operator, comes under intense scrutiny. The group alleges that "Qihoo's massive traffic volume is a lie." And since most of Qihoo's revenue comes from the ads and links it sells on its link aggregator site hao.360.cn, Anonymous Analytics is effectively saying that the whole company is a fraud, and recommends that the US SEC investigate and delist the Chinese company.
It's not the first time that Qihoo has been lambasted. Last year, the short sellers Citron put the boot into Qihoo, making similar claims of exaggerated traffic stats and ad revenue. But Citron didn't have any evidence. Anonymous Analytics, however, claims to have found a smoking gun:
Several months ago, our team discovered a piece of code embedded in Qihoo's directory page. This code was voluntarily placed by the company so that comScore, an independent third-party auditor, could accurately measure the true traffic volume to the site.

We waited patiently – with hopes that management would release the results of the traffic data to corroborate Qihoo's claims of massive traffic activity. They never did. In fact, two weeks ago, the code that allowed comScore to measure the traffic volume was quietly removed – as if the whole thing had never happened.

As a result, we mobilized our team and acquired the comScore data ourselves.

As detailed in this report, management chose to keep the data secret because it shows irrefutably that Qihoo's directory page gets significantly less traffic than management has led the capital markets to believe. All that massive traffic volume that was supposed to transform Qihoo into an internet marvel doesn't exist.

Qihoo was supposed to be the next great internet company. It turns out that it's just another fraud.
And so, from a mixture of analysis of possible earnings from clicks and other revenue sources – like online gaming – and that missing comScore code, Anonymous Analytics is "absolutely confident that [Qihoo] management is wildly exaggerating earnings."
That comScore tag in the code on hao.360.cn disappeared on or around June 20th. In the full report embedded below you can find screenshot evidence, says Anonymous, of its appearance and vanishing. As for why Qihoo would do this, the report notes on page 15:
It's unusual for a company that deals predominantly in advertising space to quietly add and then remove a comScore tag after only a few months of activity. We can think of no positive reason for such a covert move. Neither could a representative from comScore when we called them.

When asked if they knew any reason someone would remove their tag, the representative answered that "[the company] probably didn't like what they saw."
See the full report embedded below, for a non-too-flattering background on Qihoo CEO Zhou Hongyi and some other alleged antics by him in previous companies. The new attacks will undoubtedly tarnish Qihoo's image yet further – already sullied by suspicion of its 360 Safe Browsers' dirty tricks, and the way Apple temporarily suspended all its iOS apps over manipulated app store rankings. It remains to be seen if the markets will react this morning to the news, which was released moments ago at 11am EST today.
[UPDATE 14 hours after publishing: Well, that hurt. $QIHU closed down 7.5 percent at the end of the day's trading].
---
Anonymous Analytics' first report was on Chaoda Modern Agriculture, China's largest fruits and vegetables supplier, which was already suspended and delisted at the time of its publication.  ↩