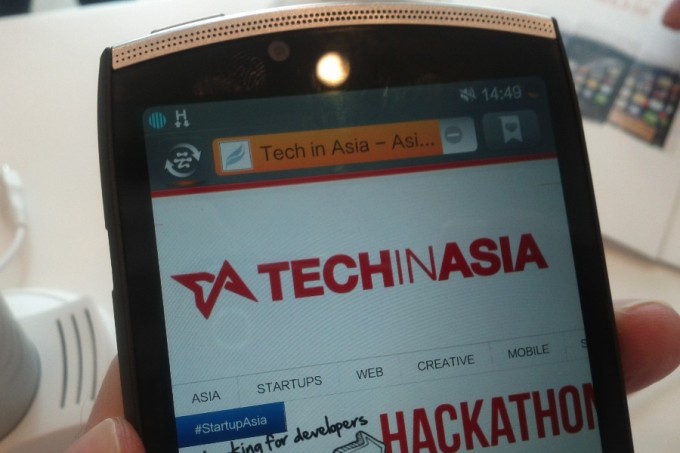 Today, the mobile OS created by Alibaba, China's biggest e-commerce company, is getting its first big-name hardware in the sleek shape of the brand-new Acer CloudMobile A800. This is the third smartphone to carry the cloud-oriented Aliyun OS – coming after two less convincing efforts with some minor phone brands (from Haier and K-Touch). In May of this year, the one million sales milestone was reached for the platform as a whole – but that's a tiny slice of the tasty smartphone pie.
[UPDATE: The launch was cancelled/postponed at the last possible minute; it's quite odd, and we're trying to find out why exactly. Nonetheless, enjoy our review!]. The new flagship phone is launched this afternoon at an event that's starting right now in Shanghai with Acer GM Dave Chan and the Aliyun department president Wang Jian in attendance. We actually got a chance to have a lengthy hands-on with the new Acer CloudMobile A800 over the past weekend at the company's annual AliFest event. In terms of hardware, the Acer (TPE:2353) phone has a 1.5GHz Snapdragon (MSM8260A) dual-core processor and a crisp, 4.3-inch hi-res screen that barely shows any distinguishable individual pixels. The phone's back looks classy with a dimpled rear cover that looks and feels like that of the Nexus 7 tablet made by Taiwanese rival Asus. It'll cost 2,999 RMB ($470), putting it slightly below recent Android flagships like the wildly popular Samsung Galaxy SIII.
Going hands-on with new Acer CloudMobile A800 and the Aliyun 2.0 sofware – which is not based on Android, but can run Android apps and games – the emphasis is still on web apps, on which the phone is focused more than anything else.
A phone for online retailers
Perhaps unsurprisingly, the mobile software has a strong slant towards online shopping and retailing – but not quite in the same way as Amazon's Android-based tablet efforts, which are more about consuming mobile content. One of the core new features of the updated OS ("Aliyun OS 2012 Autumn edition," says the phone's settings) on the Acer phone is a specialist web app for merchants on Alibaba's two biggest consumer e-commerce sites, Taobao and Tmall (pictured below). The e-tailer merchant web app gives lots of data – in line with the company's recent push into real-time data on shopping habits – about where the visitors to your online store is coming from, the number of page-views, and some visual analytics as well. Another web app syndicates industry news relevant to online store owners on the Alibaba platforms.
Sure, that's not whizz-bang awesome stuff for the average phone buyer, so the Aliyun OS as a whole still faces a huge challenge to lure folks away from the myriad charms of Android (the dominant smartphone OS) or iOS. But at least the hardware is now at a level that it stands a better chance of luring punters away from good-looking Apple, HTC, Samsung, and Huawei phones.
Cloud apps versus Android apps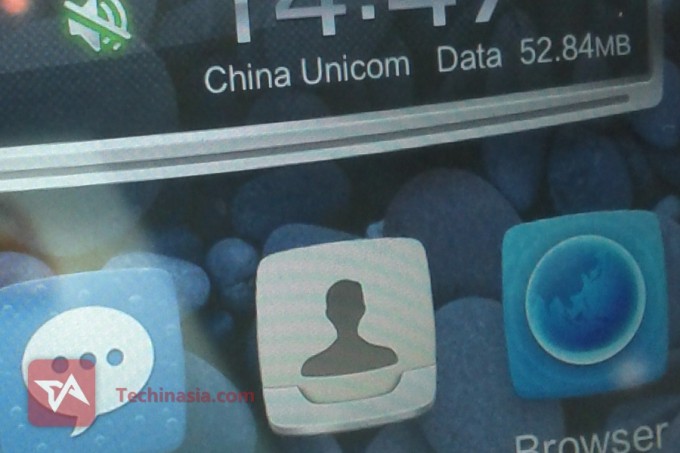 The Aliyun homescreens, as you swipe left or right, are mainly web apps – apart from that first, more familiar, grid of icons that you see. It can be a bit jarring at first to be thrown into loading web apps after swiping the screen (we're used to having to tap our way into apps), and that's another area where it's a tough sell up against Android or iPhones. But the advantage of web apps is that they never need updating, as developers can update them in real-time.
Android apps do run within Aliyun, and the main homescreen features the company's own app store which plays host to lots of recognizable and popular apps and games, both paid and free.
The pre-installed apps on the Acer phone are the same as when the Aliyun OS launched last year – things like cloud notes, email, and online maps – all created by Alibaba itself. Other core features include automated backups to the cloud once you connect the phone to your computer (using your PC's web connection), and a 'find my phone' service that comes with remote lock-and-wipe options.
We'll have to wait and see if this more credible Acer hardware can drive stronger sales. As well as Android in general, this is also up against the rival cloud-oriented mobile OS from Baidu (which is a fork of Android), China's search engine giant, which also has three smartphone partners so far. Plus, it's not really a great day to launch a new phone, as Chinese geeks wake up to the new iPhone 5 that was revealed overnight.